Review: Dungeons, Dice & Danger
Use dice to defeat monsters as you descend into a dungeon.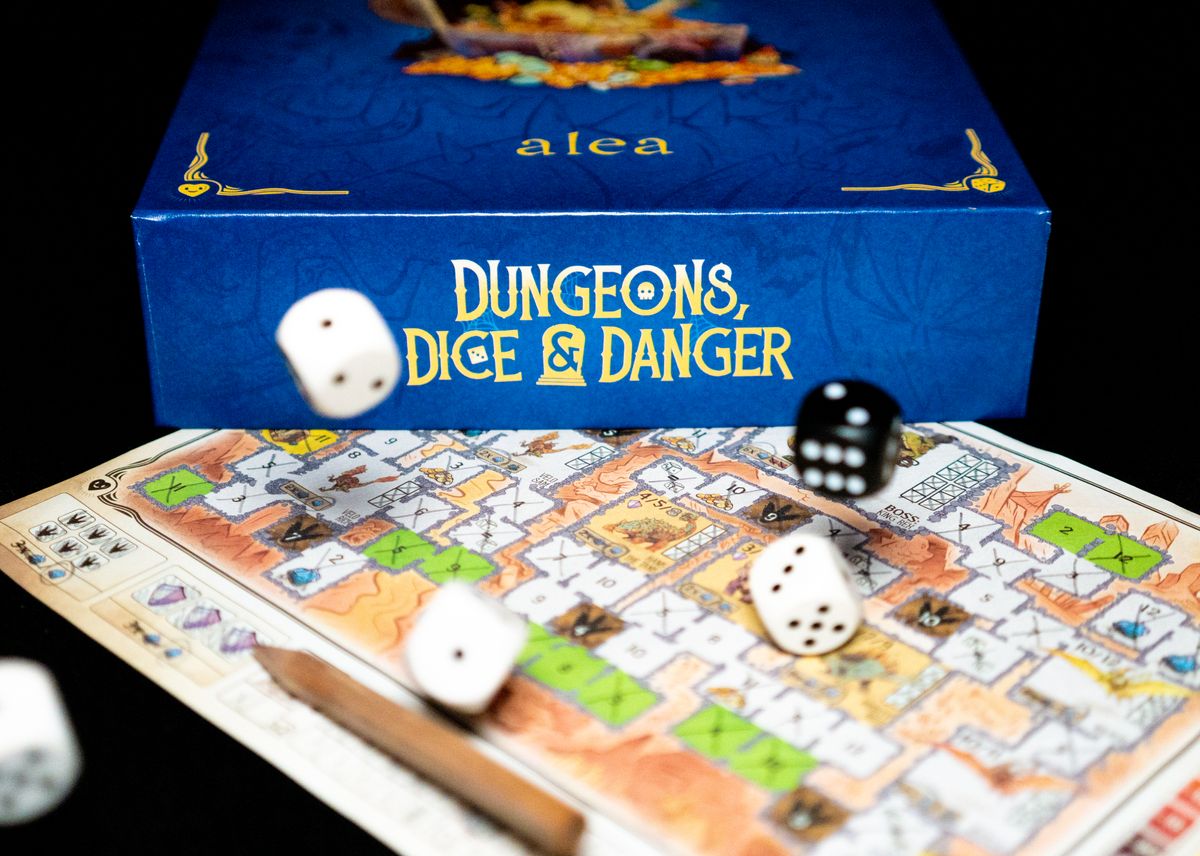 Use dice to defeat monsters as you descend into a dungeon.
Designed by Richard Garfield and published by alea / Ravensburger
👤  1-4 players
🧩  Roll-and-Write
⚖️  Light
Overview
Gather your courage, pack your sword, and roll the dice as you journey through the realm in search of treasure and glory. In the roll-and-write game Dungeons, Dice, & Danger, you explore deep, dark dungeons filled with treasure — and infested with monsters! Do you have what it takes to be a hero of legend?
—description from the publisher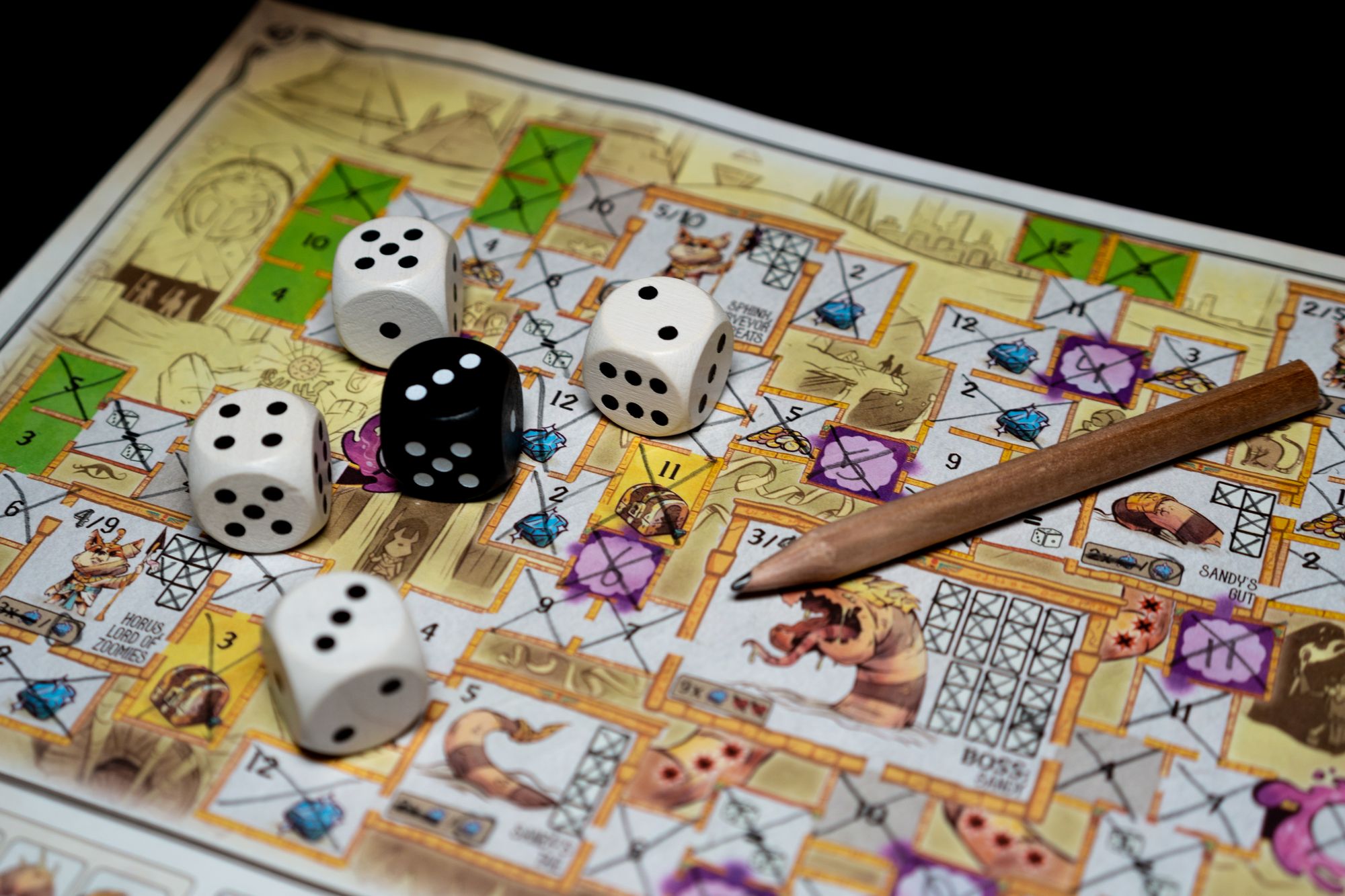 Gameplay
In Dungeons, Dice & Danger players take turns rolling the 5 dice (4 white dice and 1 black die). Each player now makes two pairs using these dice to create two numbers. The active player may use all dice, while the passive player may only use the white dice. The two numbers should then be crossed off on their personal dungeon sheet either a starting space (green) or a space connected to a space previously crossed off. If a player can't make two numbers that can be crossed off the player loses one hit point per number they can't cross off. Losing to many hit points will potentially lose you points at the end of the game.
The game comes with 4 different dungeons to explore with varying challenges. Each space that is crossed off can either be a normal space or a special space containing gems or coins. Once you've reached a monster you need to hit it a few times with a number printed in black. Surrounding a monster from multiple sides sometimes unlocks other numbers that can also be used to damage the monster. Each dungeon has a few additional rules that you need to follow.
First time a player completes a task they gain the higher reward (gems worth VP) while in later rounds if players complete that same task they get a lower reward. Tasks can be anything from defeating a monster, clearing all rubble or reaching certain spaces. If a player defeats a monster all players automatically deal one damage to that same monster.
Once a player has defeated all monsters, including the boss, the game ends and points are calculated. The player with the most points is the winner!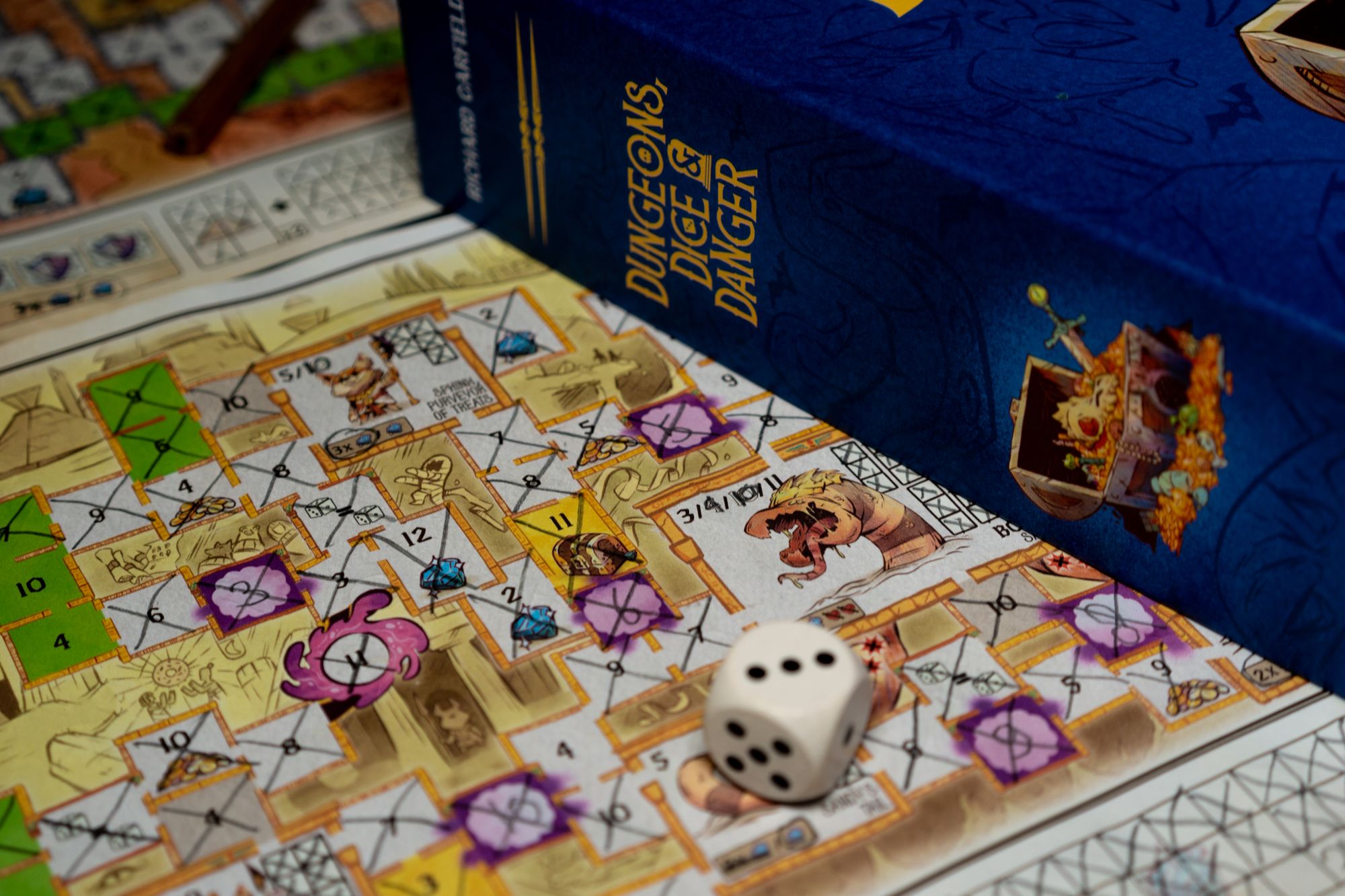 Thoughts
Finally! A Roll-and-Write, without a board, cards and large table requirements. While I love the more complex Roll-and-Writes (can you still call it that when it contains cards, boards and wooden resources?) coming out lately, I don't like the fact that these game are less easy to get to the table. More components means more set-up time and less play-time. Luckily Dungeons, Dice and Danger is a pure Roll-and-Write: a sheet, some dice and a pencil is all you need.
I think this game is one of the most relaxing games I own. I've played it at the table, on the couch and in the garden. Just a dice tray to chuck the dice into and your dungeon sheet on you lap and you're good to go. It's just so satisfying and relaxing to cross off numbers on your sheet, and slay those pesky monsters. It has quickly become our goto game if we feel like playing a quick game.
While the game is mostly solitair you're still invested in what the other players are doing since the tasks in each dungeon have a racing element. The player first completing the task gets the higher reward while other players get a lower reward if they complete it later on. You can play this game in two ways, try to race the other players or just focus on other tasks and complete those first while others focus on other tasks.
The game has 4 dungeons in the box that you can play straight away for plenty of replay-ability. While the rulebook classifies them as 4 different difficulty levels I didn't find the difficulty to be that different between them. I enjoy all of them very much and I can see me coming back to all of them. I even saw somebody suggest on BGG to play them as a campaign and sum the scores to create an overall score (credits: Valentijn Eekels). Each dungeon is nicely illustrated and the monster names are quite funny (Hank the Tank and Horus Lord of Zoomies are among my favorites). I hope there will be more dungeons releasing in the future! Some ideas for the designer: Underwater Cave, Aliens or Zombies (you can thank me in the rulebook :D)
The only downside I can think of is that it might feel a bit bland and boring for people. In the essence you're just crossing off numbers. If you remove the pretty illustrations it might even look like an Excel spreadsheet. But hey, I love my dungeon spreadsheets and I think this will see plenty of plays during my upcoming trip to Scandinavia.
👍 Pure Roll-and-Write experience (near-zero set-up time)
👍 4 different dungeons included for lots of replay-ability
👍 Relaxing gameplay with some race elements
👍 Pretty and funny illustrations
➖ Might feel like a Excel spreadsheet for some people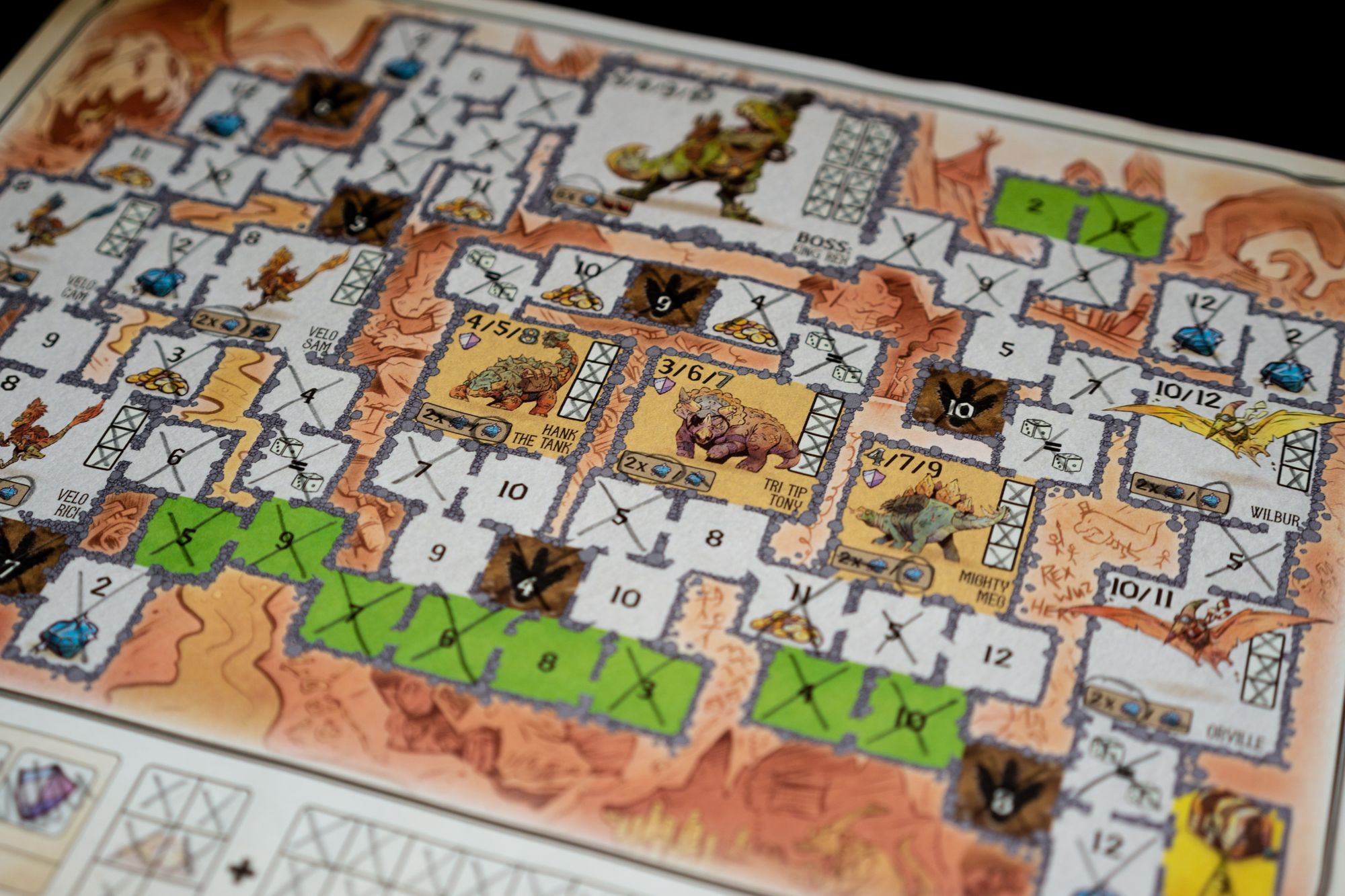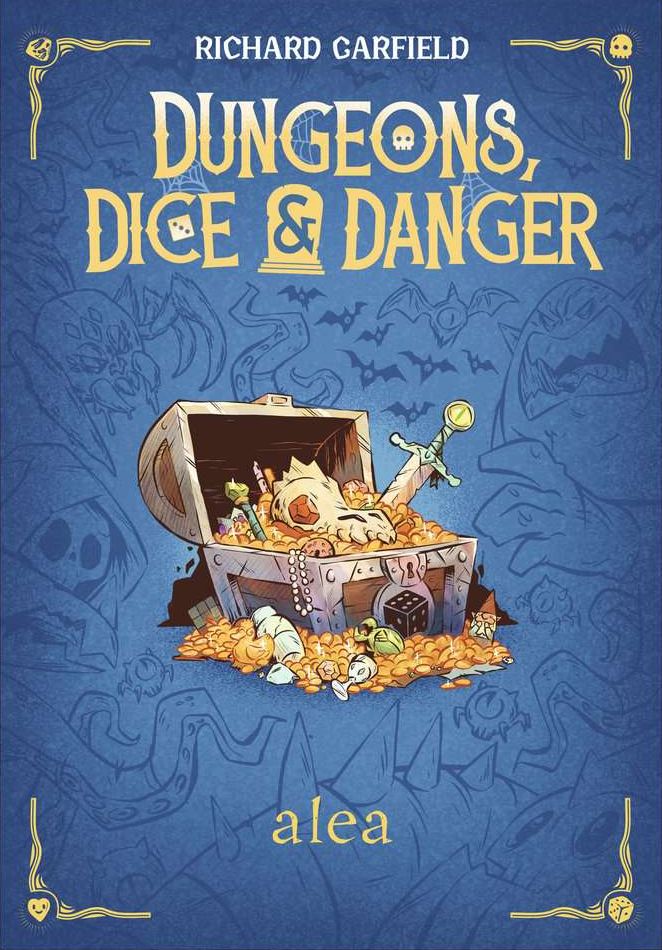 Dungeons, Dice & Danger
Dungeons, Dice & Danger presents itself as a Roll-and-Write in its most purest form. A sheet, some dice and a pencil is all you need. The gameplay is relaxing and with 4 different dungeons to explore there is plenty to discover. The game is beautifully illustrated and funny. It has quickly become one of my most loved Roll-and-Write experiences.
View on Boardgamegeek
💡
This game has been kindly gifted to me for review purposes by Ravensburger NL. Read more on my review policy here:
Review Policy
Alternatives
Looking for alternatives or similar games? Have a look at Castles of Burgundy: The Dice Game or Paper Dungeons