Review: Gardeners
A whimsical and capricious king asks his gardeners to make his incredible gardens.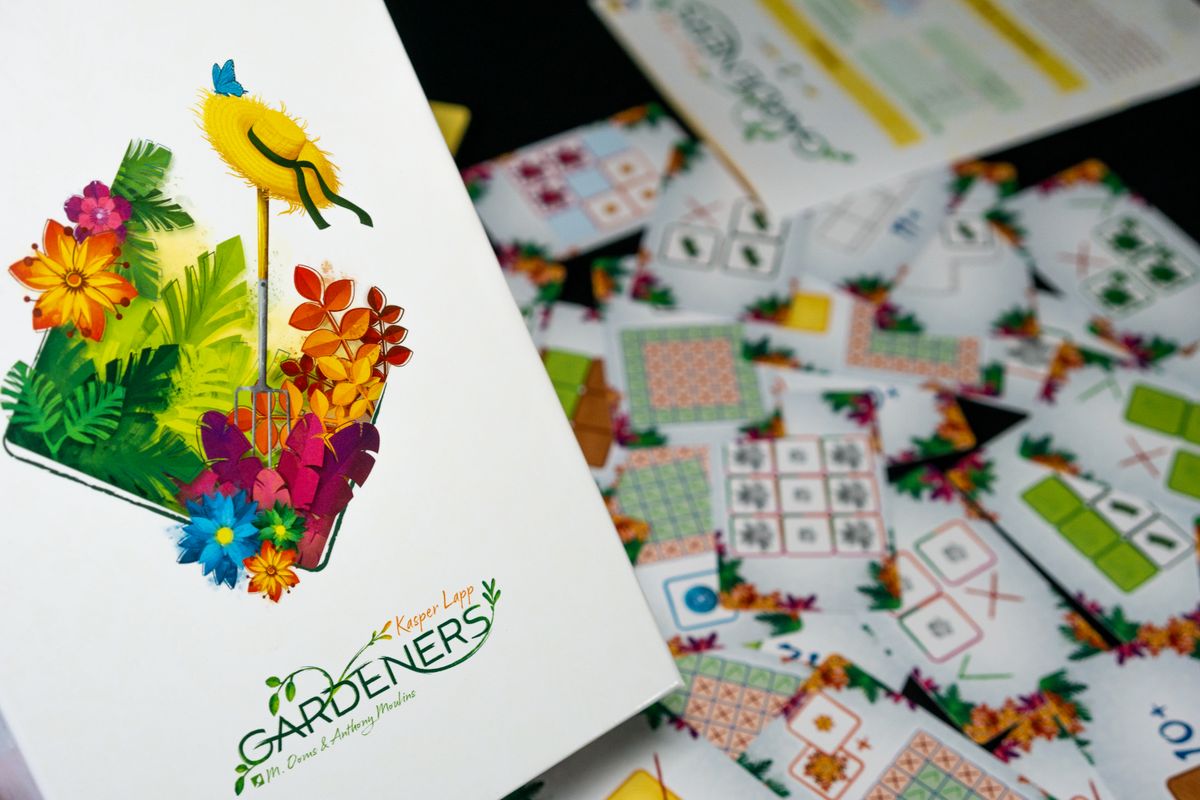 A whimsical and capricious king asks his gardeners to make his incredible gardens.
Designed by Kasper Lapp and published by Sit Down!
👤  1-4 players
🧩  Real-Time, Tile Placement, Cooperative
⚖️  Light
Overview
You are gardeners for a fickle and capricious king, who has a very specific idea of how he wants his magnificent garden arranged; however, he finds it whimsical to disseminate his different directives separately to the different gardeners. Moreover, the king forgets everything, all the time; as soon as you meet his expectations, you will find yourself starting all over again!
—description from the publisher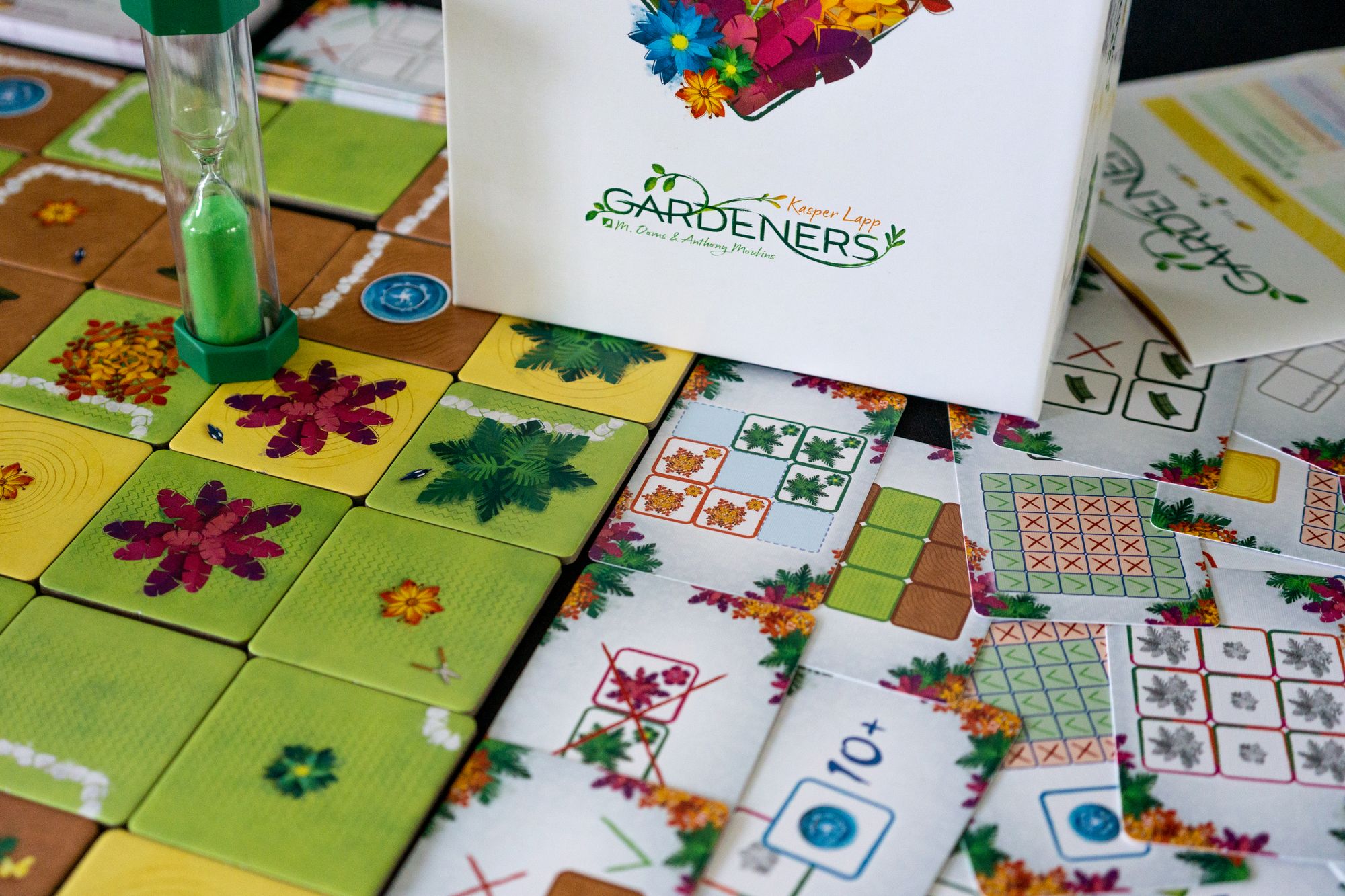 Gameplay
Gardeners is a simultaneous cooperative game played silently and in real-time. In less than 15 minutes, players must succeed in arranging as many gardens as possible, always composed of the same 36 tiles but responding to different rules from one round to another. Everyone must deduce the rules in force by observing where the tiles are placed and from where some are removed.
A game of Gardeners is made up of an indefinite number of rounds. Each is broken down into 5 phases, as follows:
Draw a Constraint card,
Start the sand timer,
Arrange the garden,
Check the garden,
Prepare for the next round.
During the game, players cannot communicate about what to do or not to do to make the garden.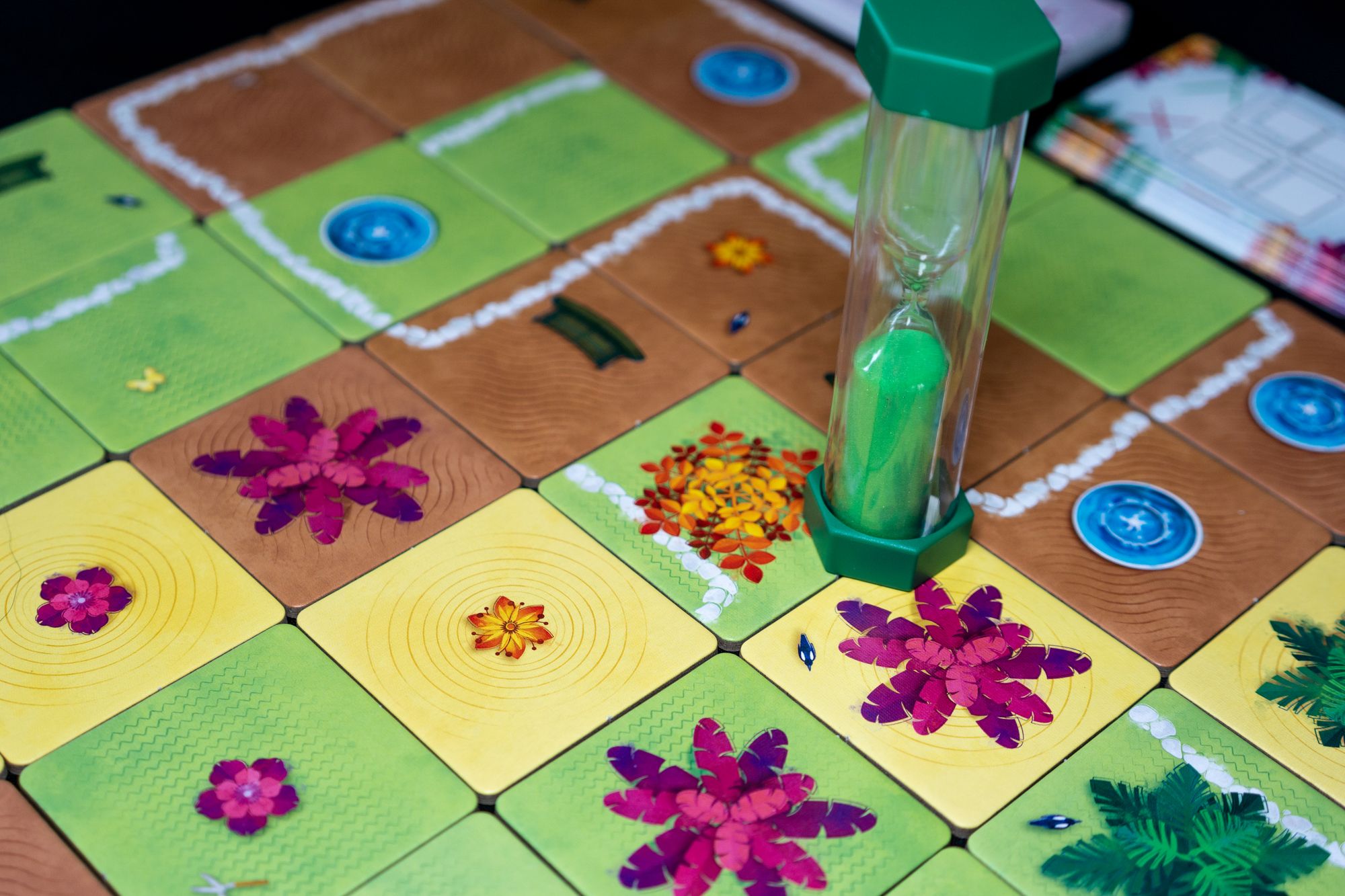 Thoughts
While Gardeners is a game that is probably not targeted at me because I'm not that into real-time/cooperative games, I was still very intrigued by the setting and experience the ruleset offers. You must build a garden following dynamic and changing rules without communicating with the other players.
Gardeners does a good job of introducing the game to new players with multiple training modus that crank up the difficulty each time you progress. For experienced players, this progression feels a bit slow, as the training modules are slow in adding new rules. However, as the rulebook also emphasizes, please continue through these modules (or skip some) before judging the game. Once you've learned the game system, you discover a fun, engaging, and challenging experience. With all the different difficulty levels, Gardeners offers an experience for various players ranging from families to children and experienced gamers.
While playing Gardeners you'll immediately notice you want to communicate certain things with your co-players, but that is not allowed. This results in grunts, surprised and discontent faces as a player destroys the plans you had in mind. Removing the correct tiles to nudge them in the right direction is key to the game, as you try to complete as many goals as possible before the timer runs out.
The components and artwork are vibrant and solid. The sand timer is a bit wonky and inaccurate (it should be 15 minutes). After a few plays, we used a digital timer that is also easier to reset if you want to restart a game.

👍 Training Exercises are a good way to teach new players
👍 Variable difficulty levels you can try out
👍 Fun and engaging experience with real cooperative play

➖ Working your way through the training exercises can be a drag for experienced players
➖ Sand timer is slow to reset and not that accurate. Better use a digital timer of 15 minutes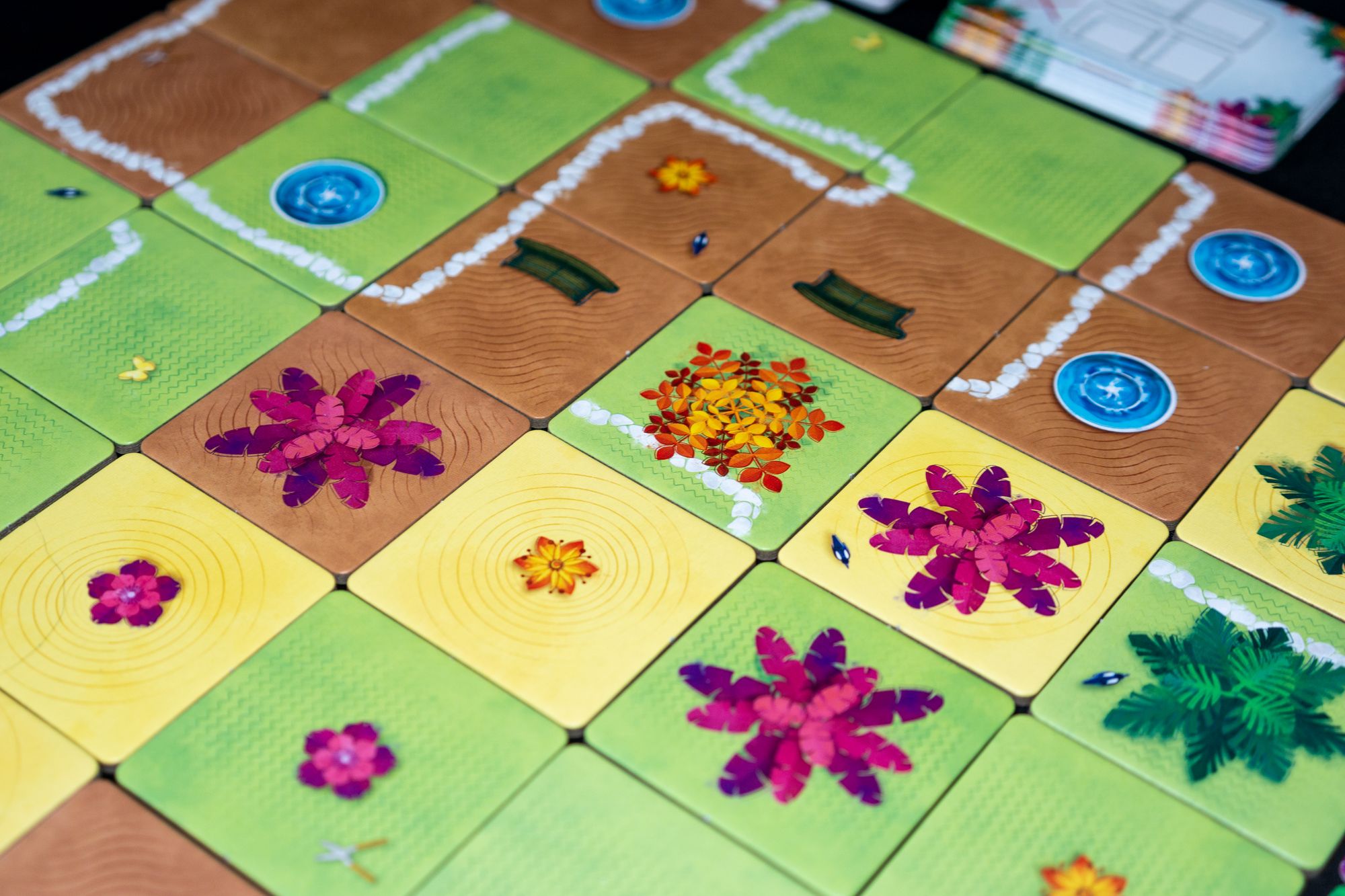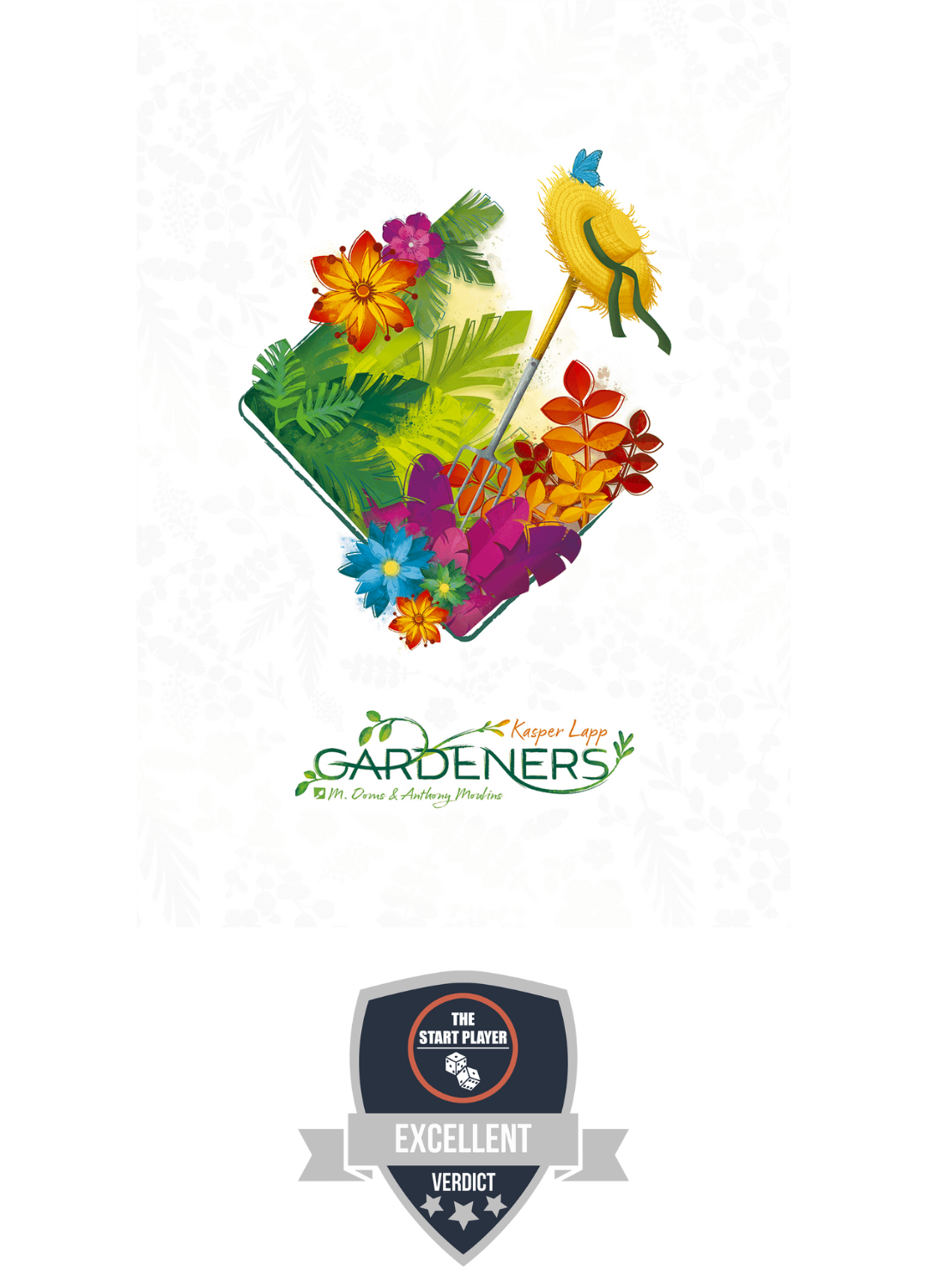 Gardeners is a fun, engaging twist on cooperative, no-talking games like Magic Maze or The Crew. It has multiple modes, so a wide variety of players can enjoy it, and it does a good job of slowly introducing all the rules.
View on Boardgamegeek
💡
This game has been kindly gifted to me for review by Sit Down! Read more on my review policy here:
Review Policy
.