Review: Meeples & Monsters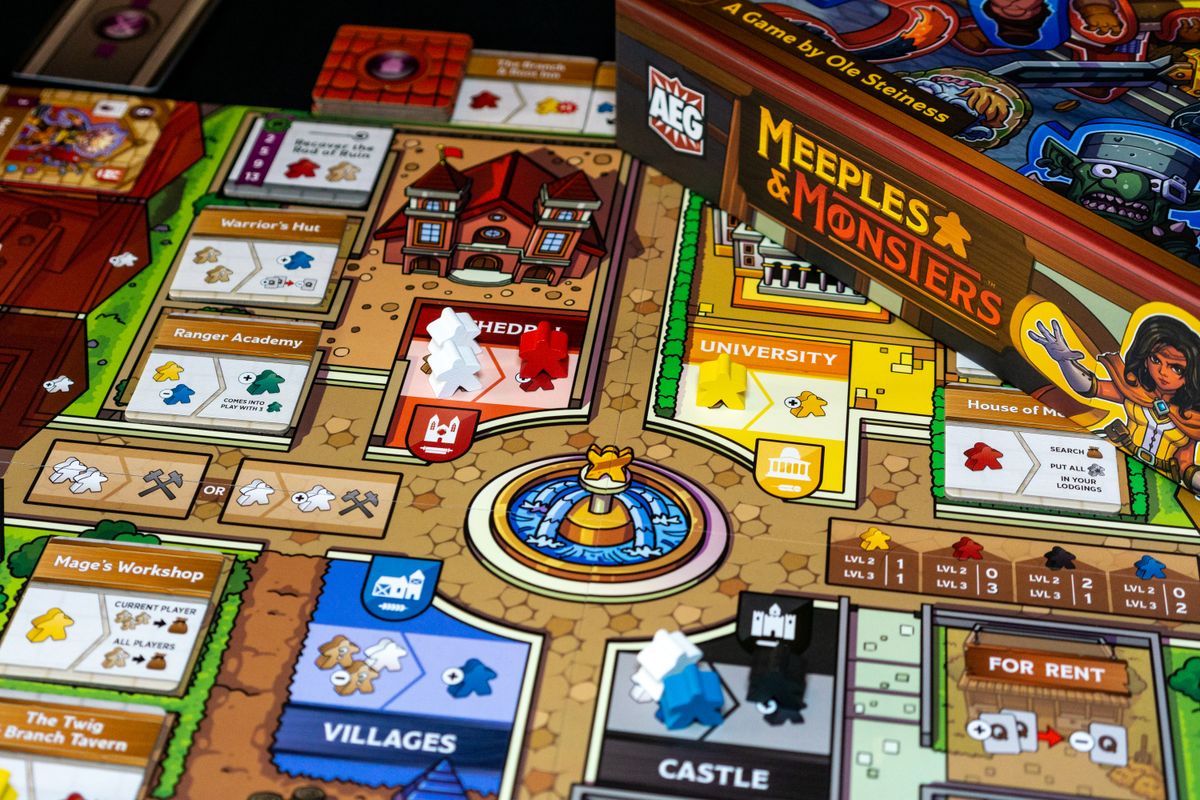 Train the village and protect it from monsters and threats.
Designed by Ole Steiness and published by Alderac Entertainment Group
👤  2-4 players
🧩  Bag Building, Worker Placement, Set Collection
⚖️  Light-Medium
Overview
The peaceful city of Rowan is surrounded by dangerous monsters. It's up to the citizens to fortify the city, train up warriors, clerics, knights, and mages, and defend Rowan in Meeples & Monsters!
Meeples & Monsters is a big, beautiful bag-building engine builder by designer Ole Steiness (Champions of Midgard and more). Depth, replayability, beautiful components, and a splash of meeple humor will have you coming back for "just one more play" game night after game night!
—description from the publisher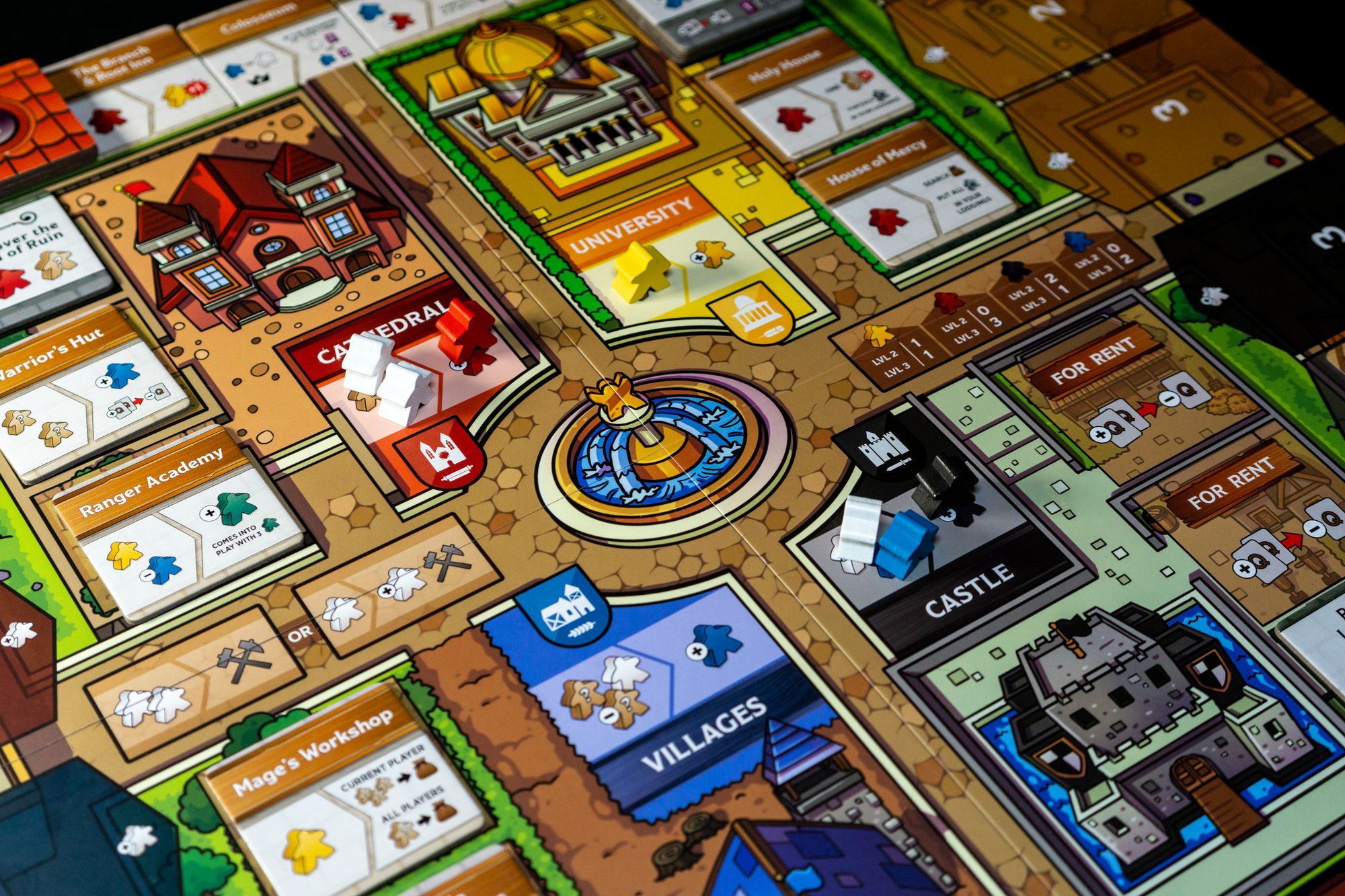 Gameplay
During a player's turn, they draw meeples out of their bag and use those meeples to perform various actions on the board. Those actions include upgrading your meeples, adding new meeples to your bag, fighting monsters, investigating towers, or even upgrading the town, giving players even more options on future turns. At the end of a player's turn, all the meeples they drew are put onto the "lodging" part of the player's board.
Players will score victory points during the game by defeating monsters, completing quests, and investigating towers. At the end of the game, players will score additional victory points by fighting boss monsters and through end-of-game quests. The player with the most victory points wins!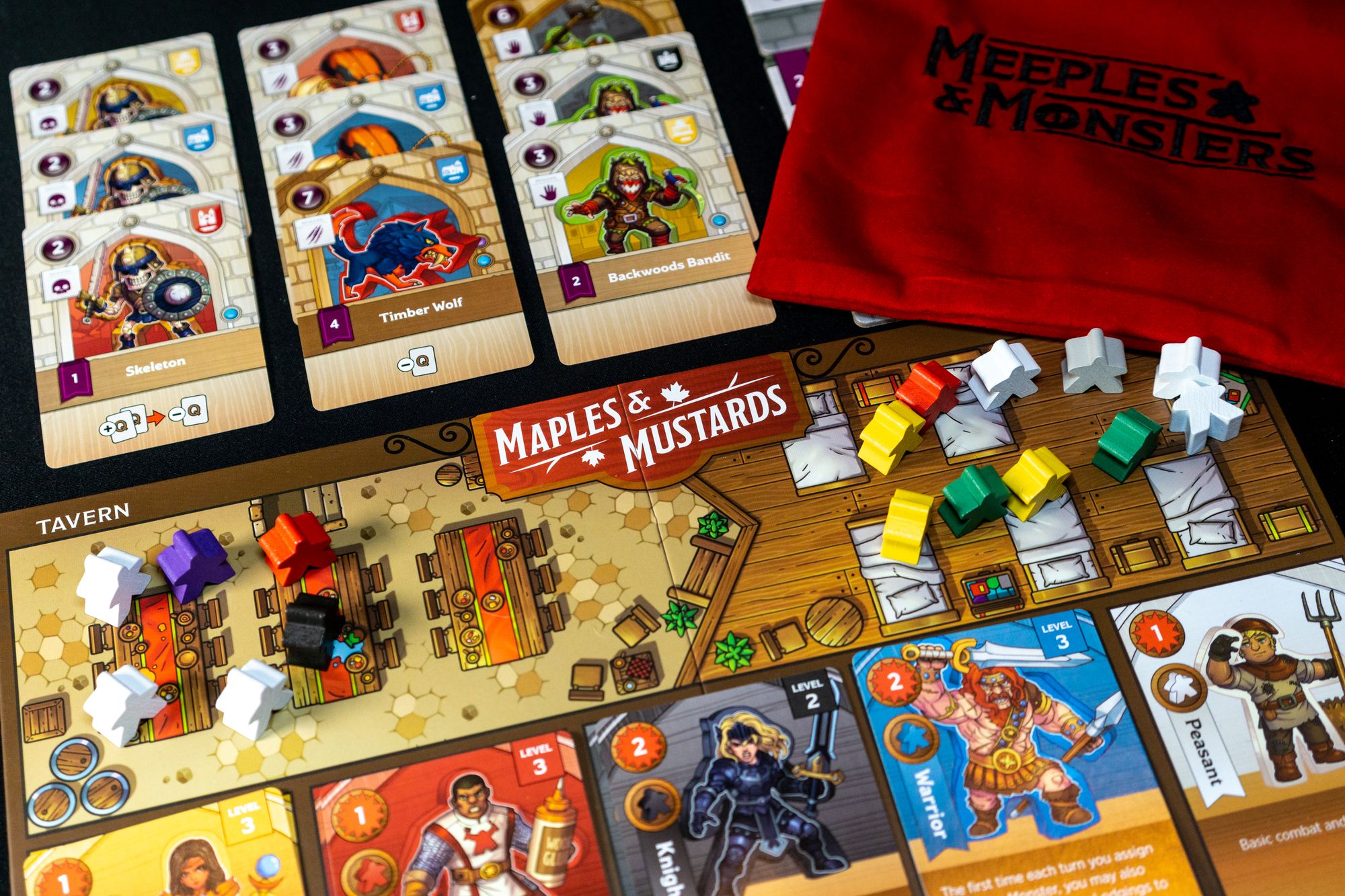 Thoughts
Orleans is one of my favorite games and is very high on my list of best games of all time. I like the bag-building mechanic as an alternative to the classic deck-building, as I think you can do some exciting stuff with it. Whenever I play a new game with bag-building, I'm immediately intrigued. Let's see if Meeples & Monsters is as good as it sounds!
The idea of drawing meeples from your bag is fantastic. Each worker has their abilities and powers. You start with just peasants and corruption (meeples that have been passed by the monsters and don't believe in winning the fight), but as the game progresses, you improve your bag with Knights, Clerics, Warriors, and Mages. You can obtain rare meeples (like rangers, for example) through certain location tiles or quests with even stronger abilities. Building your deck is a central part of the game and is fun. At the end of the game, you have a considerable amount of workers in your bag, and it is always a surprise what you end up drawing for your turn.
You get to build new locations on the board at the start of your turn. This adds a bit of variability to the game, which is a welcome addition. The order of the locations that come out each time is also different; the placement is also essential as you don't want to place it in a spot where your opponents can directly benefit from it on the next turn.
Besides slaying monsters, you can earn many points by completing quests. You start the game with two quests to give you a sense of direction, but you can acquire more while playing. Hunting the quests is a must if you want to be good at Meeples & Monsters.
As you progress through the game, building your bag becomes less important as you focus on slaying as many monsters as possible. This got repetitive after a while as you tried to get to the timed end-game.
I like the vibrant, almost cartoonish artwork in Meeples & Monsters. The components are also suitable. The iconography can be a bit inconsistent as sometimes benefits are placed at the bottom of monster cards and sometimes in the banner.
The Solo Mode and Four Towers modules are only available through a separate expansion. This is a shame, as I think the Four Towers module is a good addition that should've been part of the base game. The base game board even has spots for these tiles.

👍 Accessible bag-building game
👍 Vibrant artwork
👍 Completing quests feels satisfying

➖ Ambiguous rules
➖ Mid-game to end-game can feel repetitive
➖ The Solo Mode and Four Towers modules are not included in the base game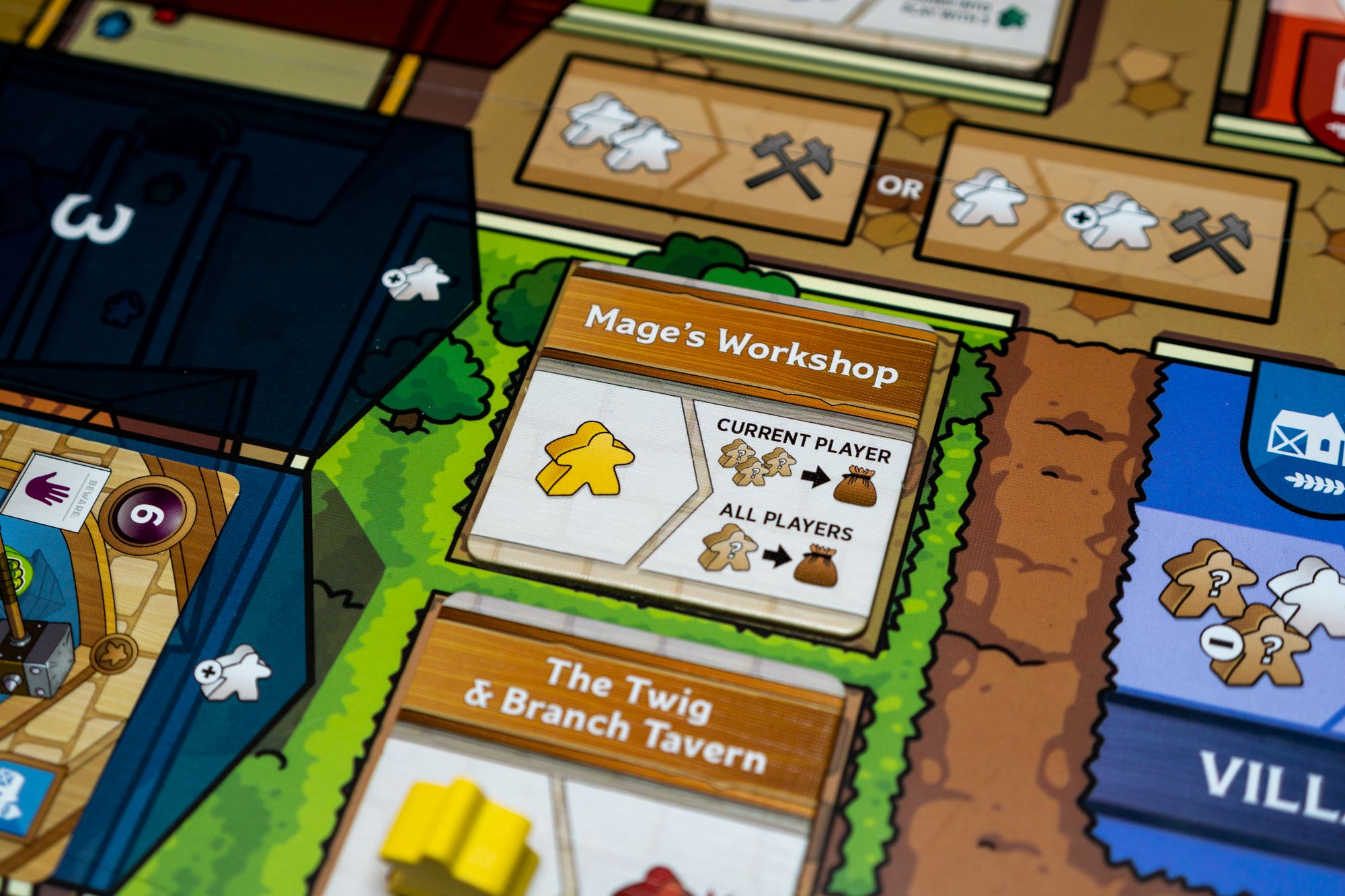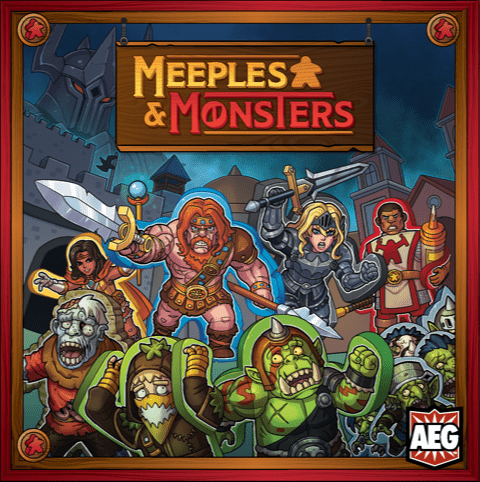 Meeples & Monsters
Meeples & Monsters is an accessible bag-builder that can be enjoyed by the whole family. The game is fun and feels satisfying as you complete quests and slay monsters. The game is not without flaws but is certainly an enjoyable experience. Combined with gorgeous artwork and components, Meeples & Monsters is worth checking out.
View on Boardgamegeek
Alternatives
Looking for alternatives or similar games? Have a look at Orleans