Review: Riverside
Be the best tour guide on a river cruise in exotic winter land.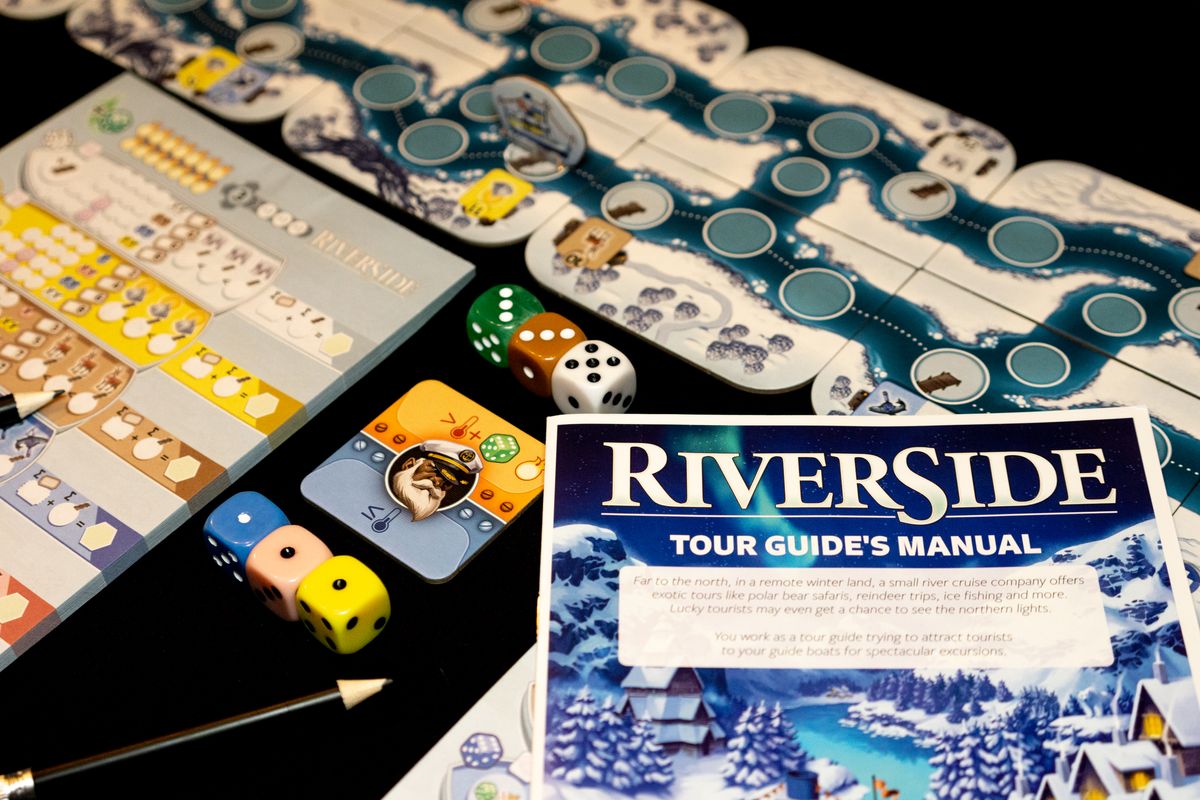 Be the best tour guide on a river cruise in exotic winter land.
Designed by Eilif Svensson, Åsmund Svensson and published by Chilifox Games
👤  1-6 players
🧩  Roll-and-Write
⚖️  Light
Overview
Far to the north, in a remote winter land, rivers are frozen most of the year. When the villages along the riverside eventually are accessible, a small river cruise company offers exotic tours like polar bear safaris, reindeer trips, ice fishing, and more. Lucky tourists may even get a chance to see the northern lights.
You work as a tour guide trying to attract tourists to your guide boats for spectacular excursions.
Riverside is a different kind of roll-and-write game: The game comes with a modular game board, which composes the route for the game. On a river cruise boat, everyone follows the same route, but you can take your tourists on different tours. You may plan ahead, but beware, the dice may force you to change your plans.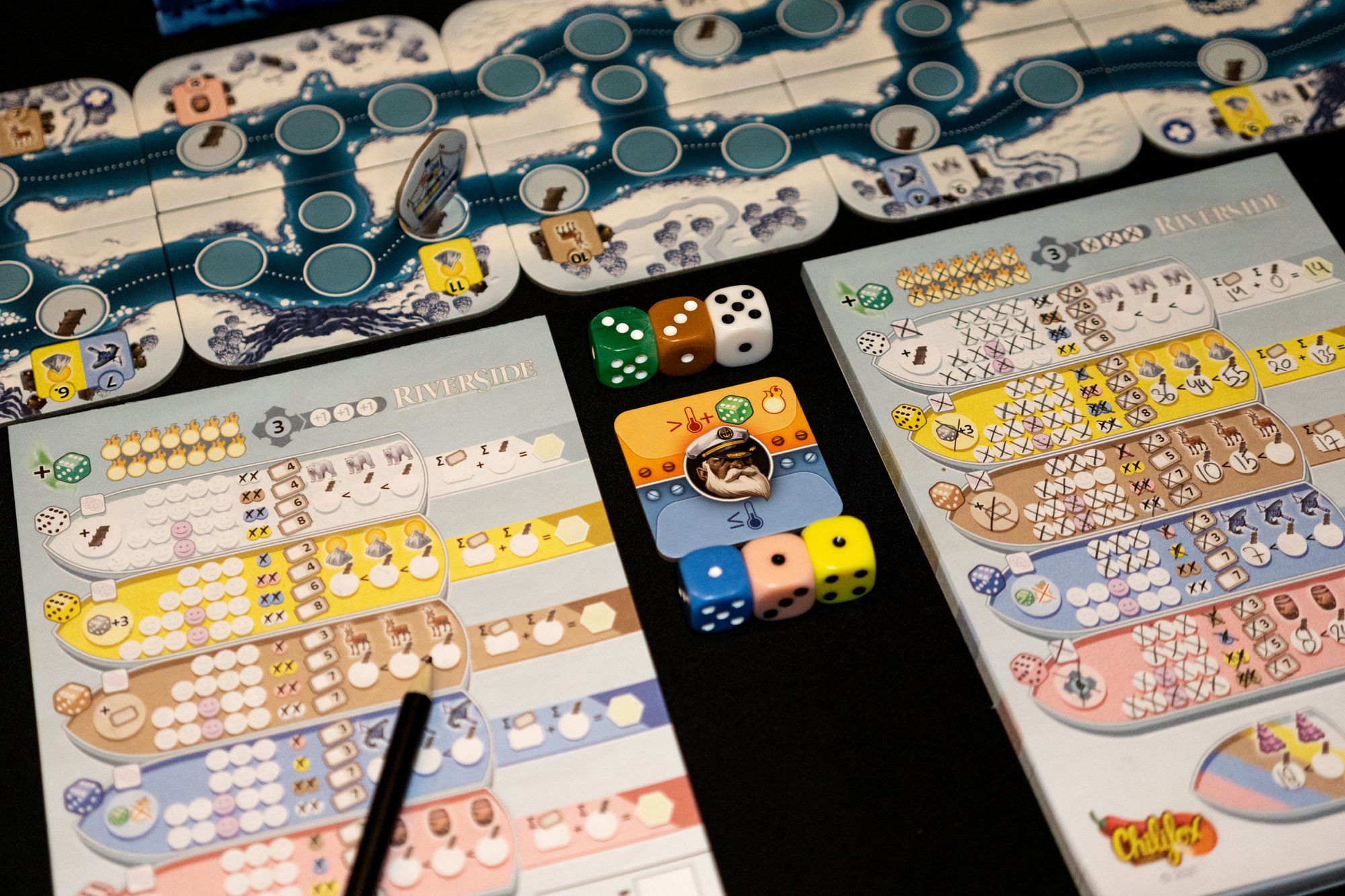 Gameplay
Riverside is played using a modular board showing the route a cruise ship will take. Each round starts with a player rolling all the dice. The green (northern lights) dice is placed above the captain tile in the heating area. The 5 remaining dice are placed in order and the value of the middle dice is considered the temperature. All dice higher than the temperature are placed in the heating area as well while all other dice are placed below the captain. The temperature value also determines how many spaces the cruise ship will move.
Now all players simultaneously choose one of the 5 non-green dice. Optionally they can add the green die value to their chosen die. All the dice you pick from the heating area (including the green one which is always in the heating area) costs heat equal to its value to choose. You're limited to 14 heating each game so choose wisely.
The color of the chosen die determines which excursion ship gets tourists this round. The die value determines how many tourists will get added to that ship (optionally increased by the green die). If you complete a row on an excursion ship you will get a bonus of adding more tourists to other excursion ships as well as a ticket.
After adding tourists to your excursion ships you get to go on actual excursions! Pick an available excursion on the board that is within 3 spaces of the cruise ship and multiple the number of tickets you have for that excursion ship with the excursion value as noted on the board. You can take each excursion type 3 times within a game of Riverside and each time you go on the same excursion your total excursion value must increase (tourists are needy people as they want a better experience each time they embark).
If the cruise ship reaches the end of the cruise ship trail the game end immediately and final scores are calculated.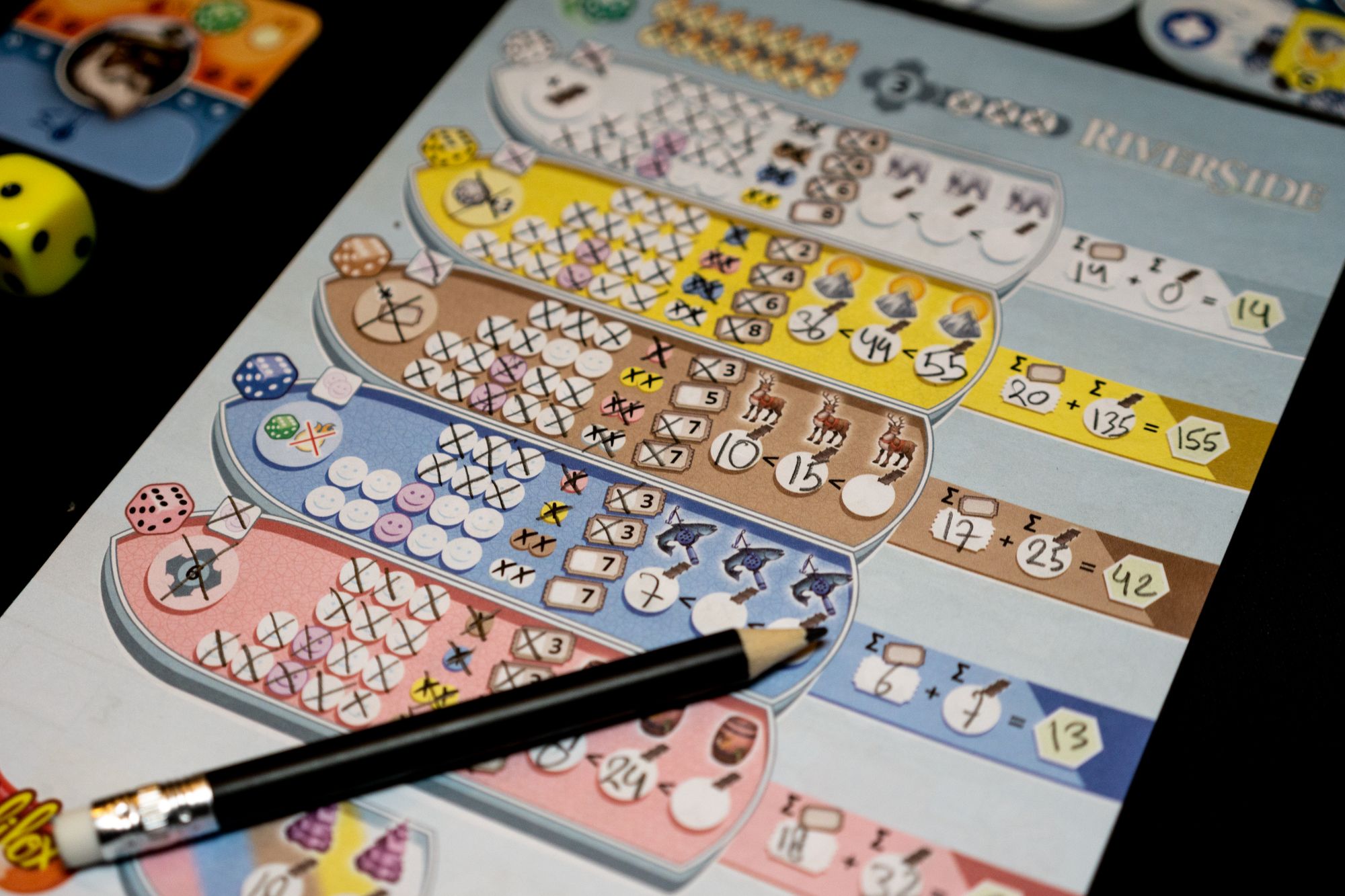 Thoughts
I bought Riverside at Spiel '21 since I'm always on the lookout for good Roll-and-Writes. However the market for Roll-and-Write is exploding and more and more of these type of games are coming out nowadays. I've tried a lot of them over the past years and I hope I can convince you why Riverside is such a gem of a game.
Riverside is a game that needed a few plays before I was convinced it was different enough, because at first glance there is not much to it. Sure the game looks nice and the artwork looks friendly and approachable but if you look at your player sheet it's also just a bunch of circles that need crossing off.
The biggest change Riverside introduces compared to similar games is the addition of a central modular board. This board is set-up randomly so the cruise ship route is different each time and this changes the order in which excursions come up. Each time you play you need to carefully analyse the cruise ships route to maximise scoring opportunities later in the game. This bit of planning adds another strategic layer that is a welcome addition to some of the more basic Roll-and-Write games. Another aspect to take into consideration is that the number of rounds in this game is not fixed. If you have high temperature each round this means that the cruise ship will travel faster along the route meaning the game might end before you've fully benefited from your strategy. I recommend always playing with the extended route variant as this adds two more tiles to the cruise ship route. This way you have a slightly longer game were you have a bit more time to optimise and perfect your scoring.
Each excursion ship also has a one-time ability that you can unlock and use during the game. This is also something you can experiment with each time you play as you can most of time only unlock a few of those abilities.
The only negative I can think of that some of the concepts of the game involve quite a bit of math. The rulebook keeps talking about the median for the temperature dice and I had to refresh my mind with a bit of High School Math. Also final scores usually lie within 200-400 range with lots of multiplying and summing so a calculator can be useful.
Overal Riverside is a relaxing and fun experience that has some innovatie ideas and twists to the genre. As with most Roll-and-Writes these days there is also plenty of chain-reactions available in the game to give you that satisfying feeling we all love. This makes Riverside a welcome addition to my ever growing Roll-and-Write collection.
👍 Friendly and approachable artwork, original theme
👍 Variability because of the different cruise ship route each game
👍 Variable number of rounds needs careful planning and adaptation of strategies
👍 Relaxing experience with satisfying chain-reactions
➖ Final scoring feels like a Math test from High School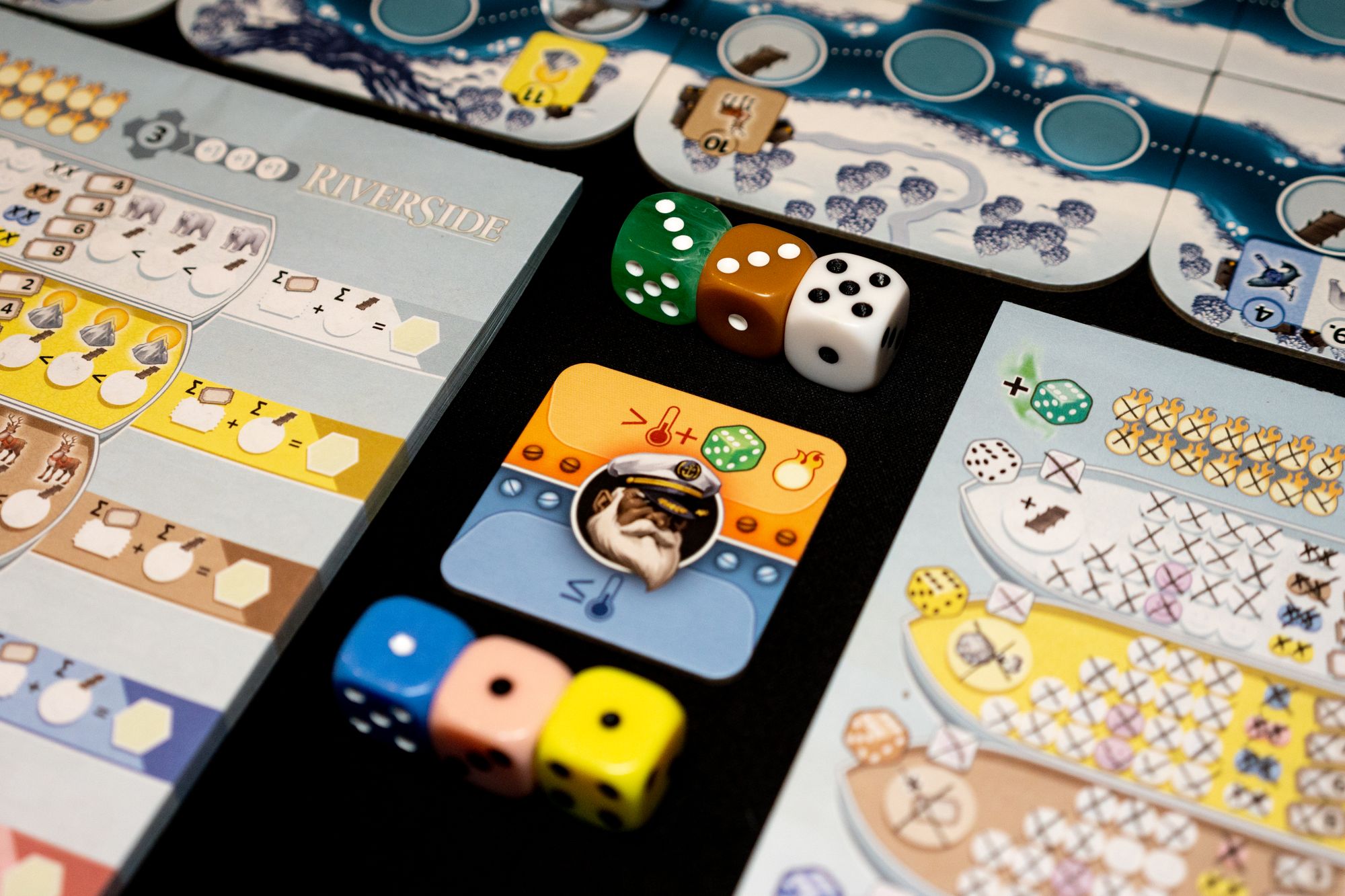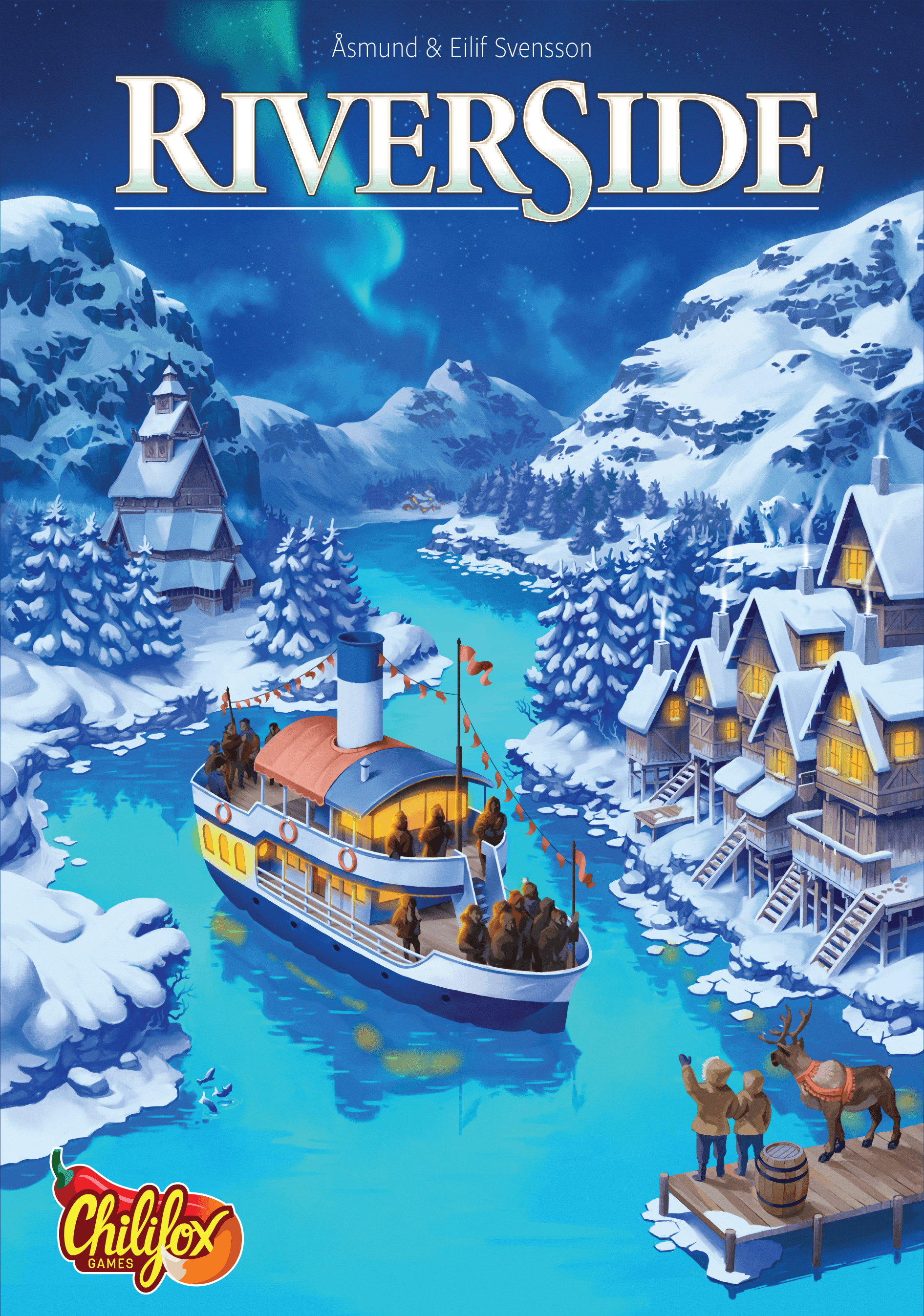 Riverside
Riverside is a lovely little Roll-and-Write with some innovatie ideas like a central modular board. This adds another layer of planning, variable game length and requires strategic thinking. It has some rewarding chain-reactions and overall it is a relaxing and fun experience. The final scoring involves a bit of Math but If that is something you can live with, definitely checkout Riverside.

Rating: ★★★★★★★★☆☆ (8/10)
View on Boardgamegeek
Alternatives
Looking for alternatives or similar games? Have a look at Fleet: The Dice Game or Clever