SPIEL '22: Day 0 - Lift Off!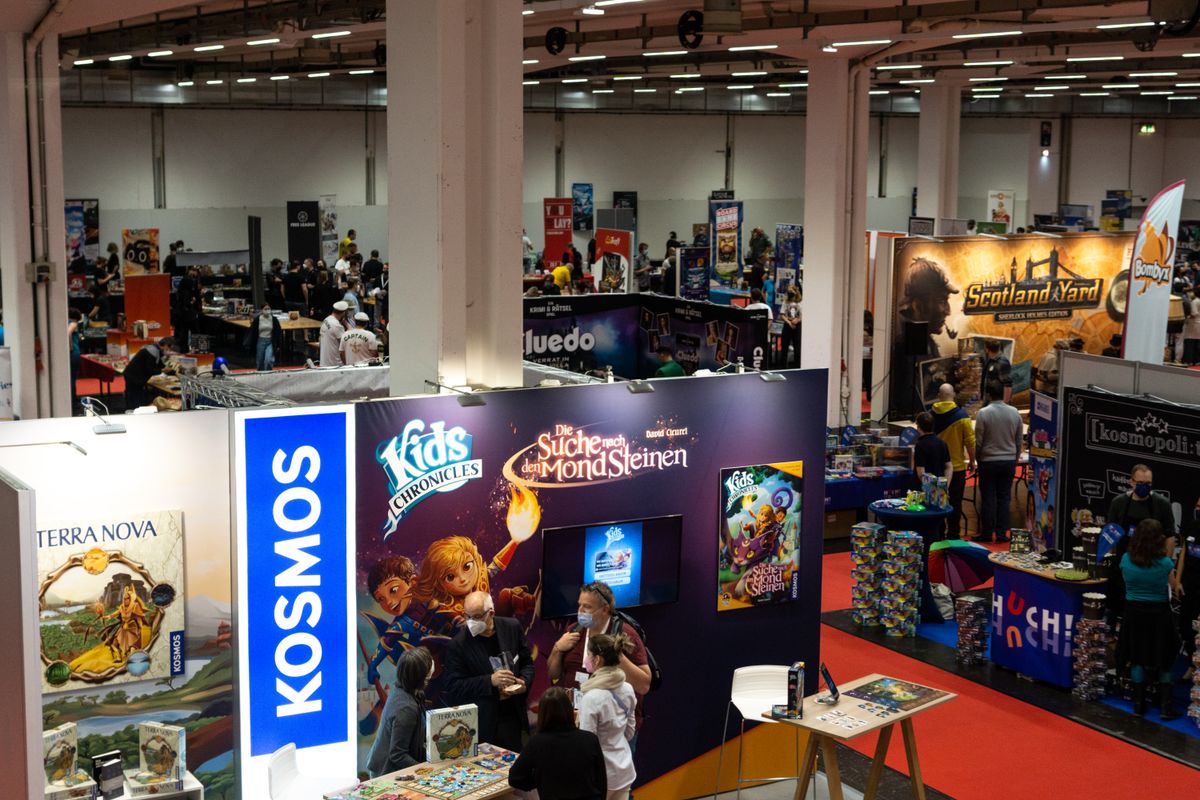 Usually, the day before you go to SPIEL feels like Christmas morning. However, this year was a bit different because this year, I'm not only attending SPIEL as a visitor but also as a press reporter to report on the event. With the nerves and excitement, it was a bit hard to get a good night of sleep in, but that shouldn't spoil the fun, now should it? Are you ready? SPIEL '22: Lift Off!
I always visit SPIEL with my girlfriend, and this year is no exception. We left by car at 8.45 from The Netherlands to SPIEL in Essen! Without any delays, we arrived at the Messe at 10:10 in the morning, perfectly in time for the official Press Conference at 11.00. One benefit of having a Press pass this year is that we can park directly under the Messe, so there is no Parking stress this year. Yay! Unfortunately, I only managed to gain one press pass for this year. So while I attended the press events, my partner went for some Geocaching around Essen.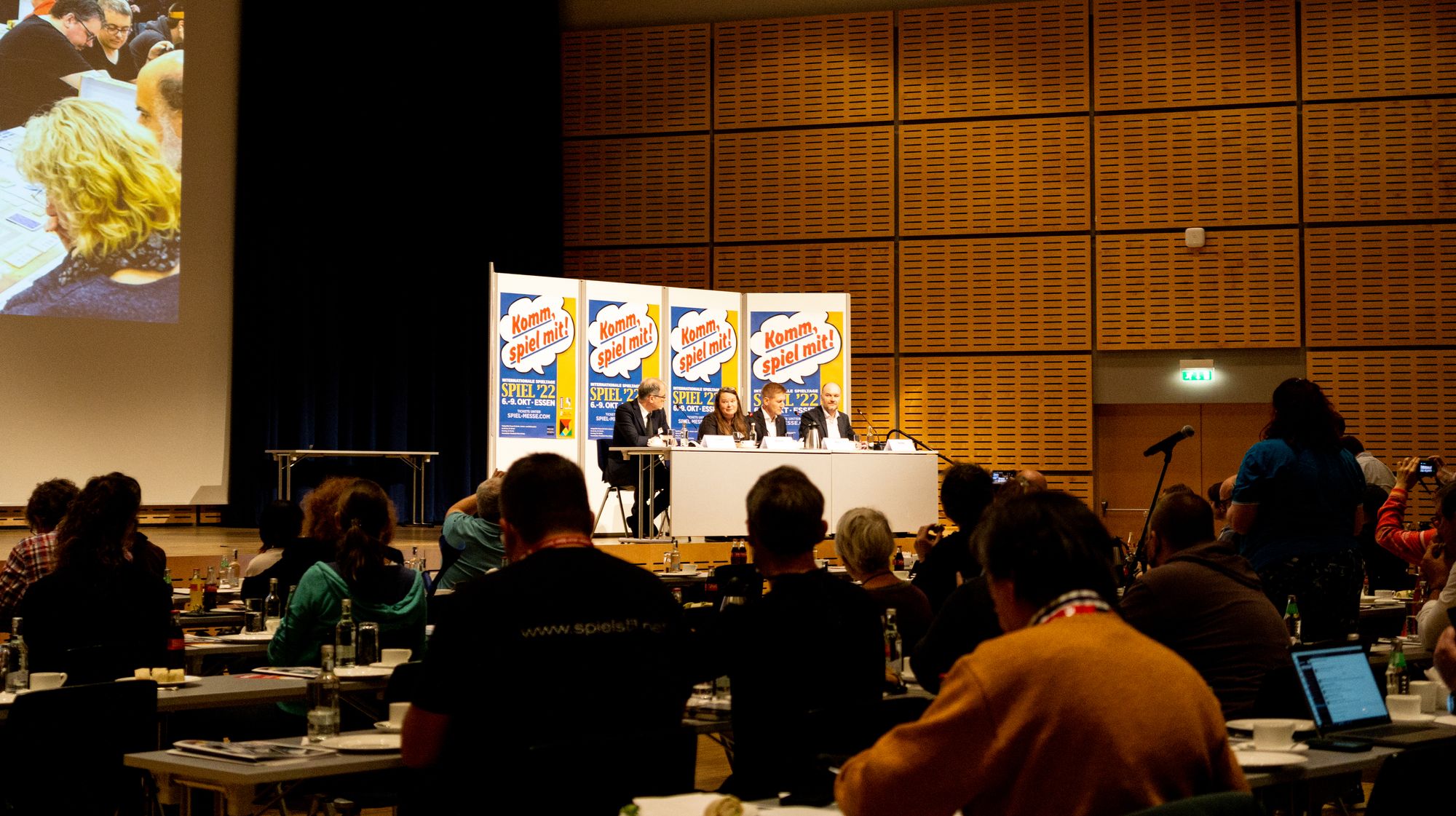 The Press Conference is focused on the national press, so it's in German. However, the benefit of living close to the border with Germany is: it wasn't all just gibberish. The Press Conference started with a welcome from the organizers and a recap video of SPIEL '19.
After the introduction, they shared some interesting facts about the fair and its past, present and future. This year 980 different exhibitors from 56 countries are attending the fair. With visitors from 66 other countries visiting SPIEL (only counting tickets that pre-bought their tickets online), this is one hell of an international event! SPIEL is always a good time to release, and this year you can find around 1800 new games and products in the Messe Halls. All of this contributes to a growth of 75% compared to previous years.
Also new this year is the official SPIEL '22 App. Visitors can now use an app to plan their visit and also use it to navigate the halls during the event. You can manage a list of titles and exhibitors you want to visit and view them on the hall maps to navigate easily.
The board game hobby is still thriving! Compared to 2019, the worldwide board game market has grown by 32%; in Germany alone, it went up by 27%. The prognosis for 2022 is that it will stabilize more, and it's expected to decrease slightly in Germany due to the enormous growth caused by Covid.
Lastly, the nominees and winners for the InnoSPIEL awards Conference were announced. The award is given to the game that has introduced the most innovation this year. The nominees for this year's InnoSPIEL award are:
The "Echoes" series from Ravensburger Verlag offers beautifully designed cards as well as an excellently produced App. The innovative feature is how the game becomes a buildable audio play that creates its very own cinema experience in the player's head.
In "Hey Yo" by Oink Games, players are members of a rap band that wants one thing more than anything else: Fame! They achieve this by cracking the high score with their rhymes and beats.
In the cooperative "Wonder Book" by Abacusspiele, players play both on and in the book of the same name, out of which a distinctive pop-up tree rises.
The winner of this year's InnoSPIEL award is: "Hey Yo" by Oink Games
With the announcement of the winner, the Press Conference came to an end. By now, it was time for the New Releases event!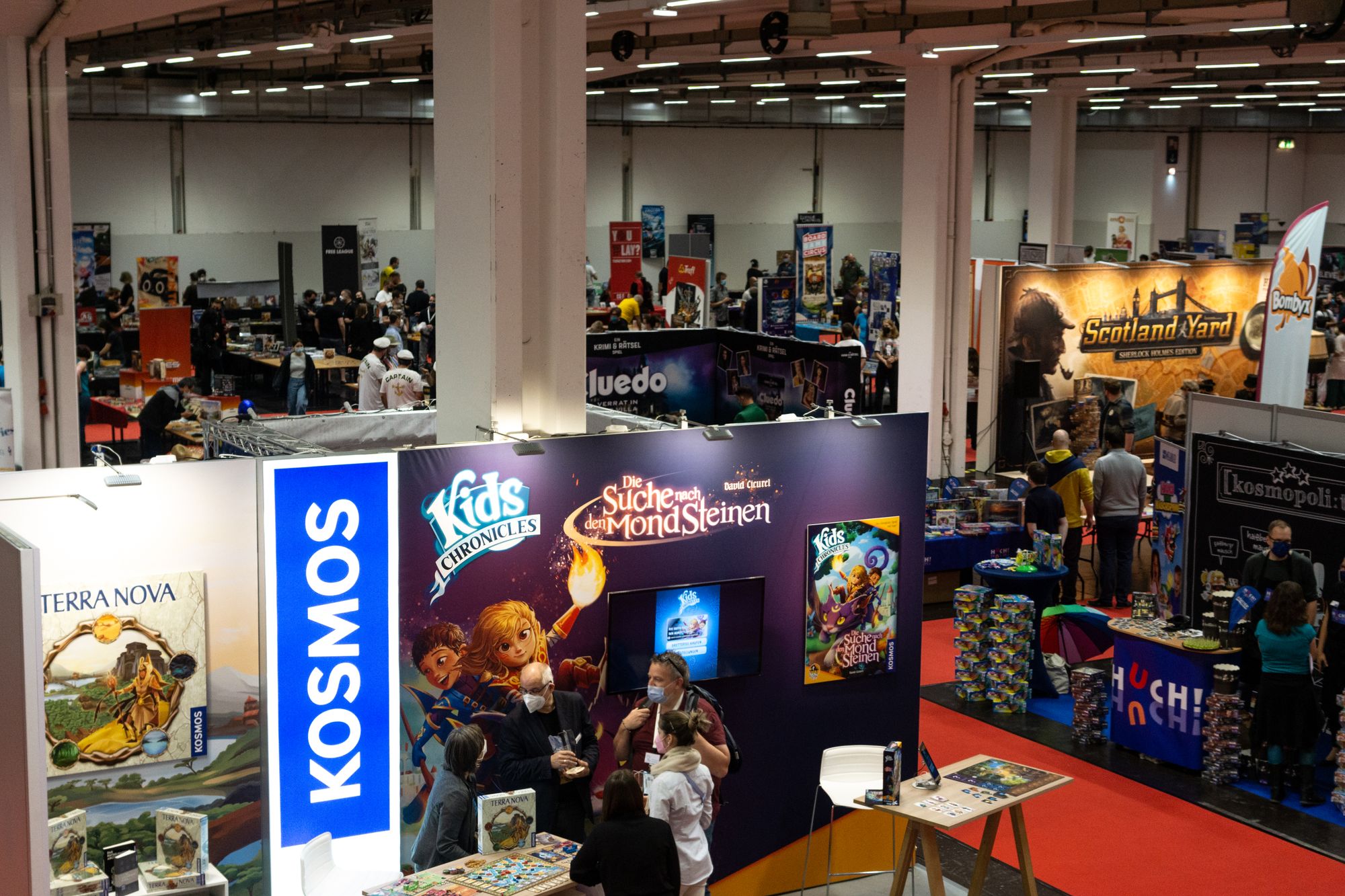 During the New Releases, event publishers and designers can showcase their latest releases to the press. This way, the press can get a first look at what's to expect from 4 days of SPIEL in Essen. I've seen loads of new games, and covering all of them would probably have me writing until deep in the night, so I'll try to highlight some of the most interesting ones.
Let's start with Woodcraft, a new game from Delicious Games by first-time designer Ross Arnold and legend designer Vladimír Suchý. With the former, I had a short chat about Woodcraft. Ross is kind and humble, crediting Suchý for most of the hype surrounding Woodcraft. But I kindly reminded him that his name was also on the box and that he should be proud of such a big first release. Woodcraft is one of the first games I'm picking up, especially after seeing it on the table. It looks gorgeous, the theme is excellent, and the mechanics look fantastic.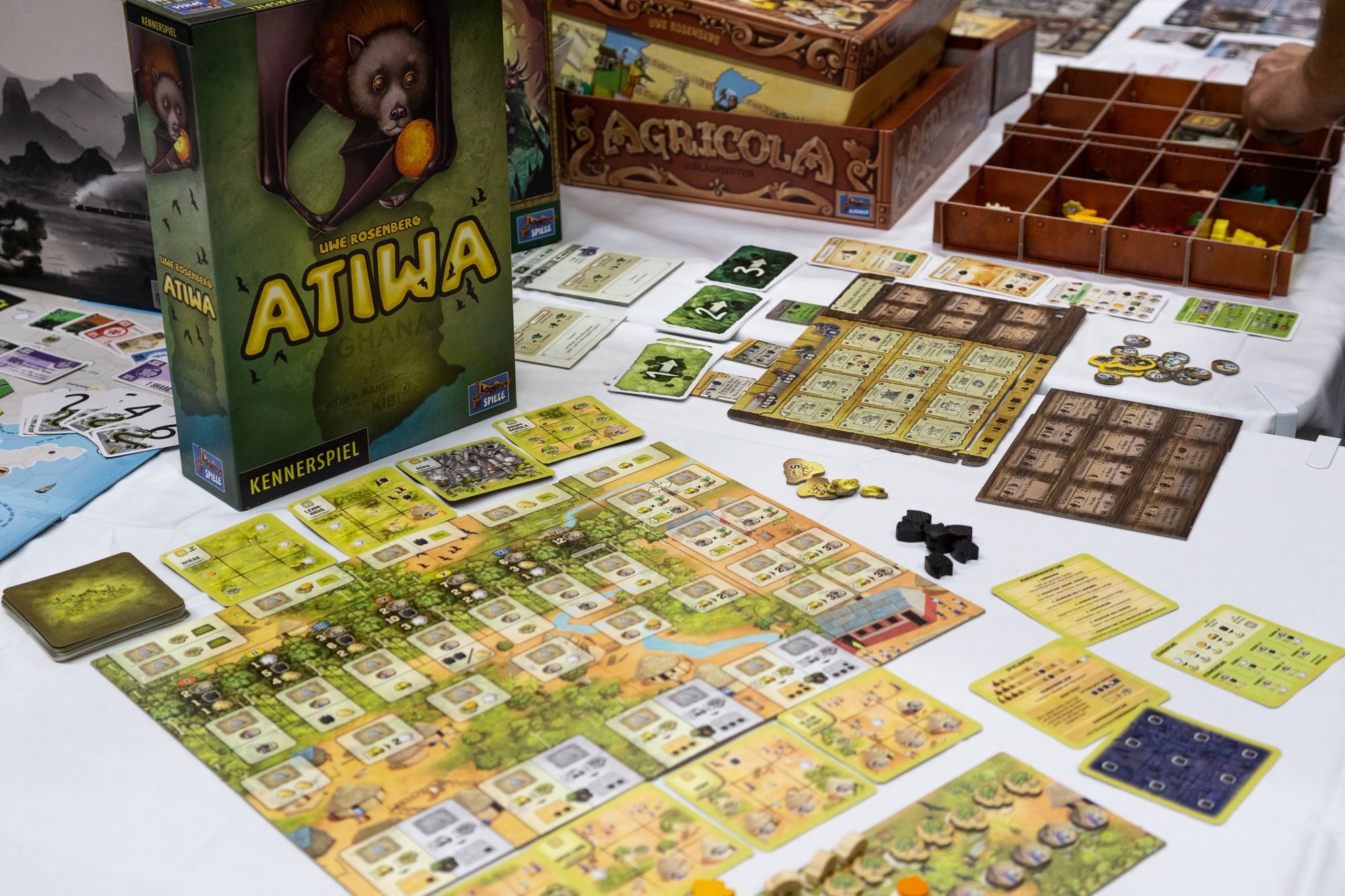 Next is Atiwa, a brand new Uwe Rosenberg game from Lookout Games. Whenever Uwe releases a new game, it's always something worth checking out since I'm a fan. That's probably why I didn't dare speak to the man standing proudly next to his game. Atiwa seems like a classic euro with an interesting Theme and some mechanics we haven't seen before in a Rosenberg game. Besides Atiwa, there is a lot of Rosenberg goodness at SPIEL this year. There is the lightweight Applejack from The Game Builders. And you can also get yourself a 15th Anniversary edition of Agricola!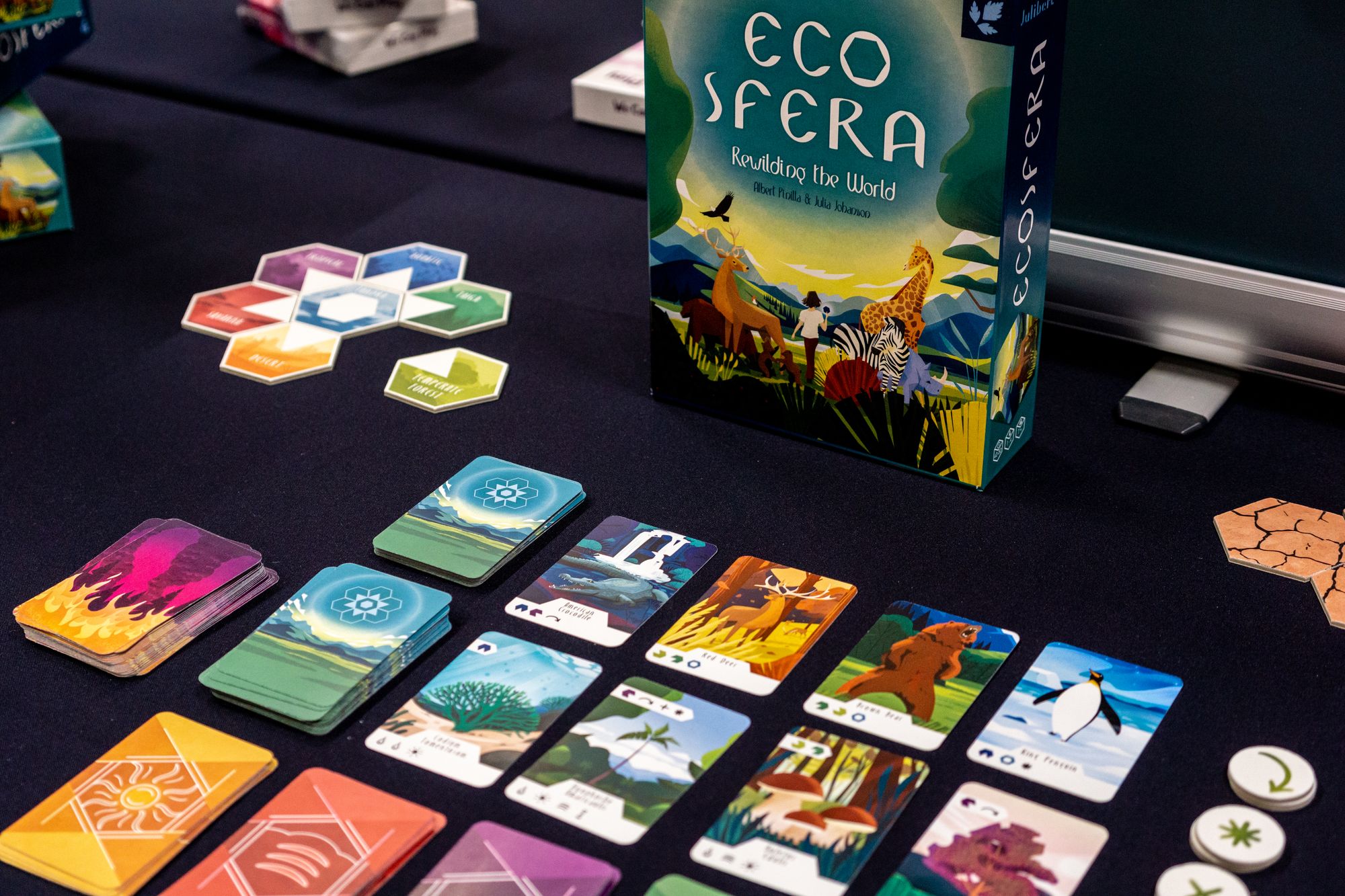 Besides new games you can get directly, SPIEL is also about discovering great games released later. Take, for example, Ecosfera: Rewilding the World and We Can Play: Women Who Changed The World by the small publisher Julibert Games coming to Kickstarter in 2023. The artwork on both games is astonishing and covers an exciting theme. Ecosfera is a cooperative deck-building game for 1 to 4 players where you use combinations of elements to get cards from the plant and fungi kingdom, which allows you to get cards from the animal kingdom to create different biomes and hopefully rewild the World.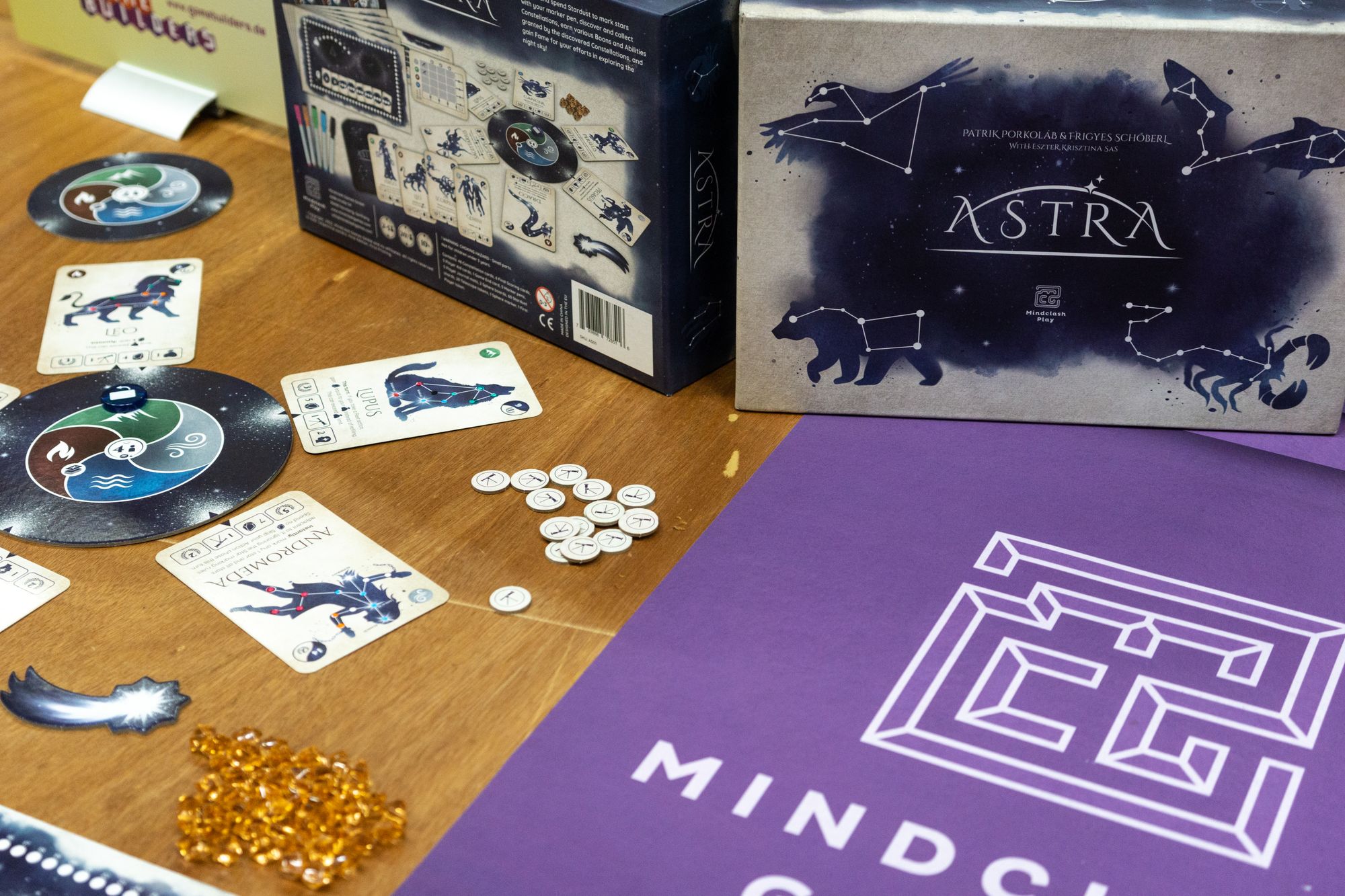 A game that wasn't really on my radar but now definitely is Astra by Mindclash Games. Mindclash usually releases quite complex and involved games, but with Astra, they now have a lighter game in their offering. You and your fellow players are eager and curious astronomers, determined to explore and understand the constellations of the mysterious night sky. You are willing to assist each other and share your discoveries, but in the end, only one of you will become famous enough to be remembered throughout history. Astra is a clever mix of tactics and strategy, with a streamlined and intuitive rule set that makes it easy to pick up and quick to play. One of the designers told me it's easy to teach but has plenty of depth to discover. I think I will be picking this up!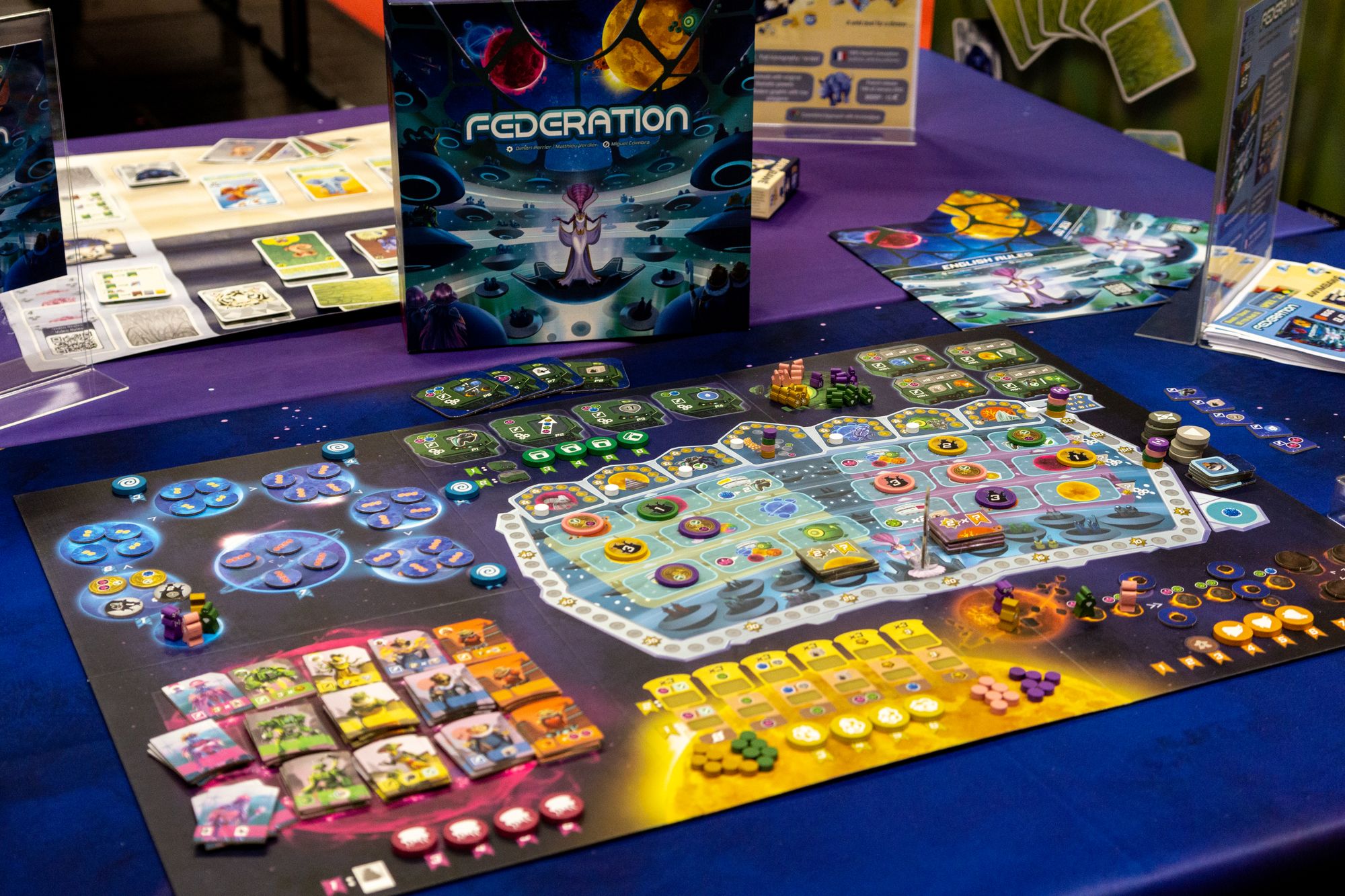 More and more crowdfunding games are finding their way to the SPIEL convention each year. An excellent example of this is the colorful Federation by French publisher Exlor8. Federation is an interactive Eurogame with an innovative double-sided worker placement mechanic. Federation is played over five rounds. Each round is divided into two main steps. The first step is player turns, where each player plays an Ambassador's pawn and sends a spaceship on a special mission. Once all players have completed their turn, the Executive Phase starts, where players receive their income, fund Major Projects, and pass laws. It's rumored that some Kickstarter editions will be available at SPIEL, and it could just be that I'll be picking up one of those copies if I get the chance.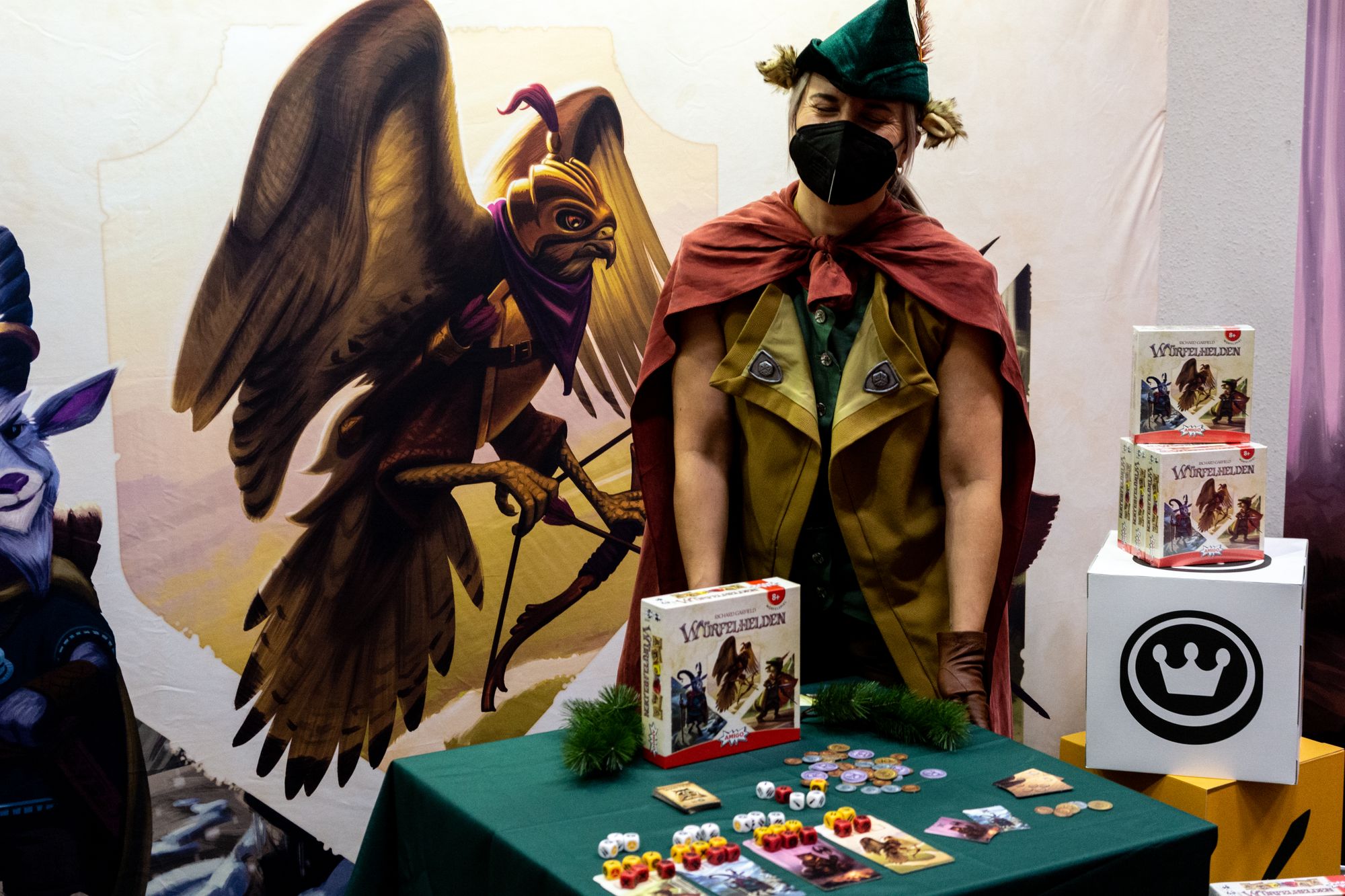 I've only covered a small portion of the games I've seen today, but there is not enough time to cover all of them. After the New Releases event, we checked into our hotel and found out that they have a dedicated game room for SPIEL visitors. I think we will use that room tomorrow once we've acquired some new games! For dinner, we went to a German beer garden for burgers and fries that were fantastic after a full day of new impressions and games. Looking ahead, tomorrow (Thursday) is the official first day of SPIEL, and I'm looking forward to entering the halls again. I don't have many meetings planned, and we will mainly use this day to pick up our new games and look at some that we're not sure about yet. For now, we'll relax a bit and recharge for tomorrow.
Checkout even more pictures of SPIEL '22 in the Photo Report: