10 Tips For First Time SPIEL Visitors
SPIEL is one of the largest, if not largest, boardgame convention in the world. This can be overwhelming for gamers looking to visit the fair for the first time. I've visited SPIEL a number of times now and I thought I would share my experiences and tips for first time SPIEL visitors.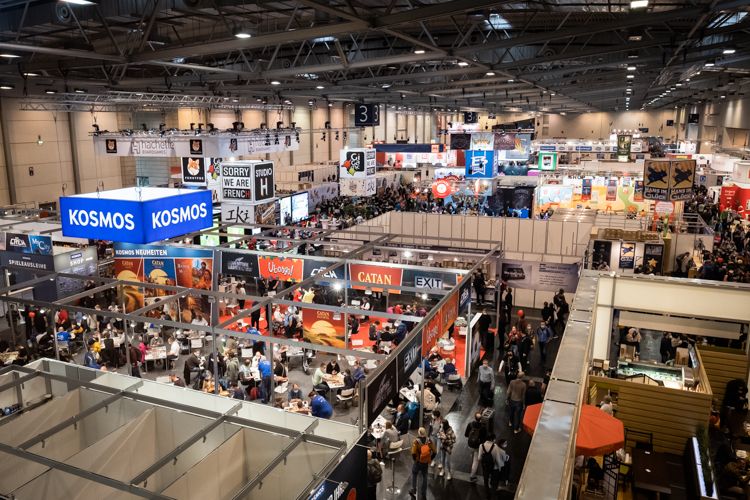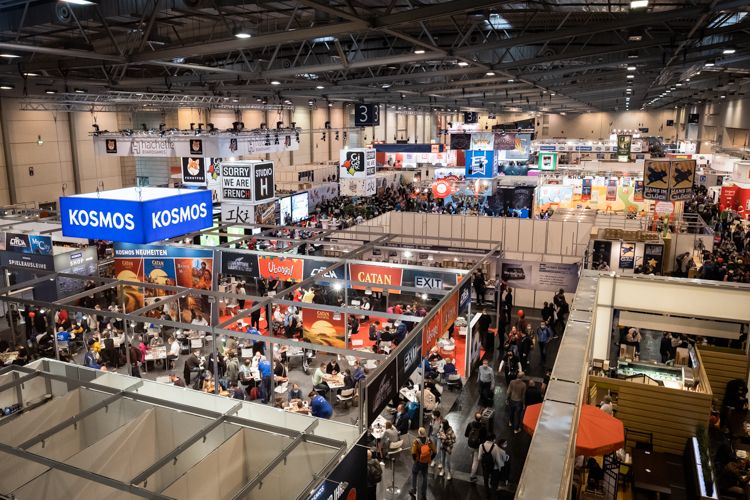 SPIEL is one of the largest, if not largest, boardgame convention in the world. This can be overwhelming for gamers looking to visit the fair for the first time. I've visited SPIEL a number of times now and I thought I would share my experiences and tips for first time SPIEL visitors.
Parking
If travelling by car to SPIEL in Essen you of course need to park it somewhere. Around the Messe (german for Convention Hall) in Essen there are various parking places, some close to the halls other a bit further a way. The parking place furthest away even has shuttle busses that travel between the halls and the parking place. The first time we visited SPIEL this was the parking place we ended up on, and we said to ourselves: never again!
Parking close to the halls is very useful. Parking close by obviously saves you some time. But the most important thing is you now have a drop-off point for your acquired games during the event. You can also maybe bring some water bottles, snacks or other utilities that you can store in your car for easy collection during the day.
The first time we dragged all of our games with us which is very uncomfortable in the crowded halls and also the plastic / paper bags handed out by most publishers can give some nasty cuts in your hand palms.
Tip #1: Arrive at least 1 hour before the doors open so you can get a good parking spot close to the halls
Tip #2: If you go outside to your car make sure you get a wristband from the Messe security people so you can easily re-enter afterwards.
Clothing
SPIEL is a very large event and the temperature in the Halls can vary quite a bit. Wearing the proper clothing can be of big help to make sure you've a comfortable time.
While most of the event happens inside there are a few opportunities to go outside. These areas are mostly focused on the food and drinks. We like to buy and consume these at one of the outside areas to get a breath of fresh air while we are at it. You can't visit Germany without eating a curry or bradwurst in our opinion. Since SPIEL takes place in October it can be a lot colder in these areas.
Another aspect of your SPIEL outfit you can't ignore are your shoes. As mentioned before, SPIEL is a huge event and you will be walking and standing a lot. Make sure you wear shoes that are good for walking and that make you feel comfortable. Last year I walked 20.000+ steps on a single day of SPIEL. You might also get some trampled toes in the process so sturdy shoes are no luxury.
Tip #3: Wear layers of clothes which you can easily remove or put back on.
Tip #4: Wear sturdy shoes that are comfortable for many steps.
Cash is King
With hundreds and hundreds of exhibitors attending SPIEL to present their new games an important part of the event is selling their newly released games. Exhibitors come from all over the world to SPIEL to release their games. But remember: Cash is still King at SPIEL.
This doesn't mean that you can't buy games using credit cards or debit cards but it's the exception rather than the standard payment method. For overseas publishers it can be hard to set-up digital means of payment in Europe. Others blame it on the bad WIFI signal in the halls. I've also heard that exhibitors have to pay extra to have WIFI access. Whatever the reason is, most of the exhibitors only accept cash. So make sure you bring enough cash. Don't place your bets on the ATMs just outside the halls because most of the years these will eventually run out of cash during the event.
You can imaging with all these exhibitors and visitors exchanging cash for games this attracts a whole other group of people: Pick Pockets. Make sure you have your money on you in a safe spot because there have been various reports over the years of Pick Pockets being active at the event. Also if an exhibitor IS offering card payment I think that should be the preferred way of paying because it's less risk for the exhibitor as well.
Tip #5: Bring enough cash for the games you want to buy.
Tip #6: Be aware of Pick Pockets during SPIEL and carry your cash safe and secure.
Accommodation
If you plan to attend SPIEL multiple days you might be looking for a place to stay. An obvious choice are hotels. Essen has a wide variety of hotels available in various price ranges.
However it's absolutely essential you book way in advance since prices will rise quickly when rooms fill up for the event. I recommend booking a year in advance to guarantee a good price. I've had most success with booking.com, most of the offers on there have free cancellation up until the day of arrival so if plans changes you can still change along with them. Most of the time you don't even need to pay in advance so it has been the perfect solution for me. Besides hotels you could also opt for an Airbnb as there are loads available as well.
Besides a place to sleep some hotels also offer various extras in the evening for SPIEL visitors with open gaming areas or other SPIEL related events. Contact your hotel or check Boardgamegeek.com to see if your hotel has extra events planned.
Tip #7: Book your hotel way in advance to get affordable offerings
Headaches
Wait a minutes, headaches?! Yes, something I almost get every year is headaches at the end of the day. For me this is probably caused by a mixture of things that I'll try to describe. The first one is the climate in the halls, the air is very dry from the air conditioning and/or heating. Secondly, because of the excitement of SPIEL I tend to drink way too little. The third one I already mentioned before, the constant noice of people chattering and your brain not understanding a word the people are saying in the background is exhausting. I've seen people wearing noise cancelling headphones to battle this but I haven't tried it myself. All these ingredients definitely guarantee headaches for me, but it's worth it!
Tip #8: Drink enough during the fair. You can either buy it at the fair or bring some drinks yourself.
Tip #9: If you do get an headache some paracetamol are useful. Make sure to bring the box so if you get questions from security you can show the medical information.
Sold out Games
For publishers it can be hard to gauge the interest for a game and print the correct number of copies. This can result in games selling out during the fair. Make sure you prepare well for your visit and get the games you MUST HAVE first. I'll be publishing another post next week to describe how I prepare for SPIEL in further detail.
Some publishers will have games for each day, and if they sell out you need to come back the next day. Other publishers will just sell anything they have and they might sell out on the first day of SPIEL.
Whatever happens, with hundreds of games releasing at SPIEL you should always be able to acquire something you like. Each year I've had at least one game I wanted that I couldn't get in time. While unfortunate, don't dwell on it too long! After all SPIEL is only once a year and the games will most likely end up available through retail in the months after that.
Tip #10: Prepare for some games being sold out. But don't let that spoil the fun!